Back to the list
5 Best Email Management Software 2019
August 24, 2019
If you are the one who handles the business activities of marketing, sales or service desk, and then you must face tons of emails. Too many emails will be overwhelming if you can't manage them in orders effectively. But don't worry; all you need is good email management software.
The best email management software will enable you to manage your mailbox, folders and files easily, and it also offers the powerful search features with high security. And the best part is it often offers email templates to help you improve your productivity and the email tacking function to identify your work performance. However, finding the best email management apps can be a bit of a challenge. This guide is meant to help you find the perfect email management software.
5 Best Email Management Software 2019
1. SendinBlue
SendinBlue is one of the best email management software for marketers. It combines email marketing, short message service (SMS) and service desk in one system.
Pros
- Responsive email templates: It offers 70+ responsive design templates to help you create good email campaigns;
- Email Send Time Optimization: It helps users send the emails at the optimal time for a better open and click-through rates.
- Contact Segmentation: it helps implement the contact segmentation on your email lists for a more effective marketing strategy.
Cons
-Doesn't work well for complex email campaigns
Price
| | |
| --- | --- |
| Lite Plan for new marketers | $25/mo with 40,000 emails/mo |
| Essential Plan for growing businesses | $39/mo with 60,000 emails/mo |
| Premium Plan for marketing pros | $66/mo with 120,000 emails/mo |
| Enterprise for marketers who need more | The price varies from the email quantities. |
2. Cloud CC 
Cloud CC is the best email management software 2019 for marketers, salespeople and service team. The amazing thing about CloudCC is that it offers the powerful email management service as well as the CRM and team collaboration too. Its free plan enables users to enjoy most of the key features while its 30-day free trial is available for all the features. Thus with one free email management software, you can handle most of your business activities in one platform freely.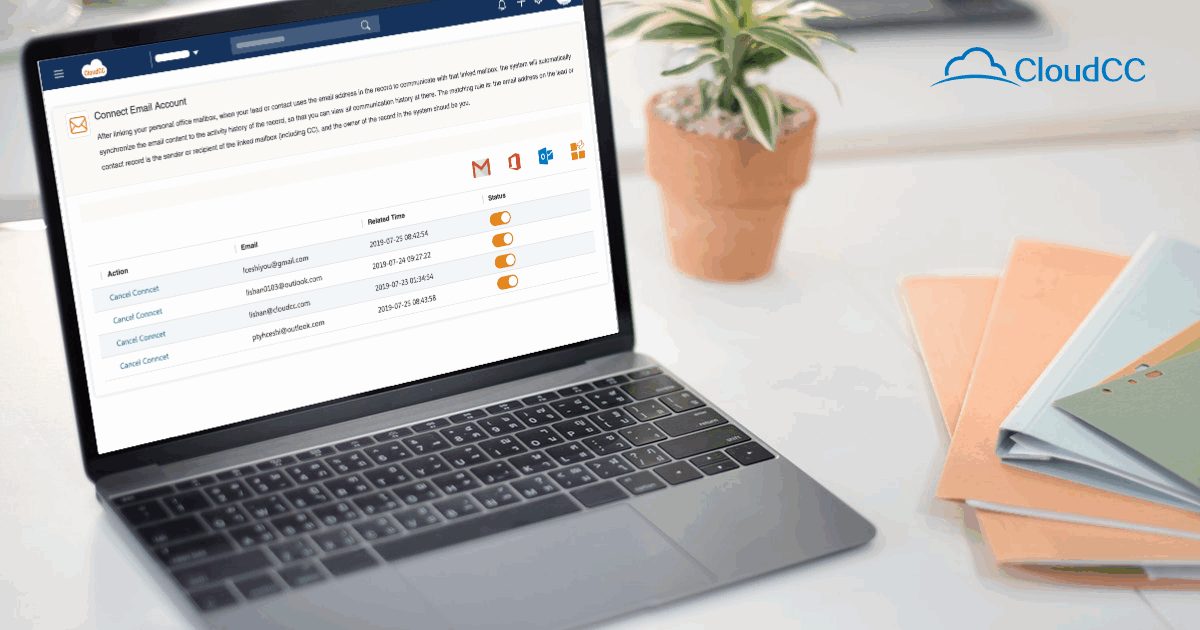 Pros
Email Marketing
CloudCC enables you to create email campaigns with bulk creative and responsive HTML emails. And it also allows integrating with the third-party email marketing tool- Mailchimp, which allows you to sync Mailchimp lists with CloudCC Campaigns and help increase the working efficiency of your marketing and sales team.
Email Templates
It enables you to custom you email templates easily with colorful pictures and registration links, which helps you work effectively and increase the conversion rate.
- Email Tracking and Reports
Keep tracking your email campaigns or sales emails and generate the performance reports such as the email open and click rates, the number of times your emails are opened and the links they have clicked. This helps you know how to follow up with the most potential customers.
- Email Sync
Email to Leads and Cases- A new email will be automatically generated into a new lead or case record, which helps you save lots of time.
Sync with Gmail, Outlook- Your email contacts will be synced with the relevant leads, contacts, and accounts directly from your Gmail, Outlook, and other email inbox. Thus you can plan your sales activities quickly and more conveniently.
- More Than an Email Tool
Besides the email management, CloudCC also provides the CRM and collaboration feature including sales and marketing automation, workflow and pipeline management, team collaboration and online chat, etc.
Cons
It only offers 3 free users. However, its paid plan is very affordable for start-ups and small business.
| | |
| --- | --- |
| Professional | $6/month/user |
| Enterprise | $19 /month/user |
| Unlimited | $79/month/ user |
Want to start your free trail? Click here to get start now.
3. Zoho
Zoho is one of the best email management software as well as a CRM platform. Zoho Mails helps you run your business communications on a secure and ad-free email service platform. But for a completed marketing, sales and service solution for your email management, you also need Zoho CRM features.
Pros
- Mail Security: Zoho Mail uses the technology of EAR, TLS and TFA authentication to secure your mails.
- Zoho Mail has integrations with Zoho Apps, Mail-suite Apps and Zapier.
- Zoho CRM enables contextual email management. It allows users to manage customer emails seamlessly within CRM such as replying instantly to emails, adding follow-ups, and make notes. It also integrates with Zoho Campaigns to send bulk emails to your leads.
Cons
- Overly complex, hard to master all the features - The interface of Zoho Mail is outdated. - You need to buy Zoho CRM and Zoho Mail to get all the features
Zoho CRM Price
| | |
| --- | --- |
| Starter | $8/month/user |
| Standard | $12/month/user |
| Professional | $20/month/user |
| Enterprise | $35 /month/user |
| Ultimate edition | $100/month/ user |
(Zoho Mail starts at $1/User /Month billed annually with 5 GB per user.)
4. Hiver
Hiver is one of the best email management apps that enable professional shared inbox collaboration and team email management. With Hiver, it becomes much easier to manage your shared inboxes such as Support@ or Sales@ from your Gmail inbox.
Pros
- Manage Shared Inbox: Collaborate on email responses by sharing Drafts and using @mentions without internal cc / bcc / forwards - Use Gmail as Helpdesk: The help desk feature such as ticketing emails assignment and tracking, syncing up on customer emails and intuitive reporting can be done inside Gmail. - Categorize emails automatically- You can set some conditions to enable Hiver to apply a tag to each email, which helps you categorize emails effortlessly.
Cons
- Only suitable for Gmail or Google account users. - Good for support teams but not so advanced for marketing and sales teams
Price
| | |
| --- | --- |
| PLUS | $14 per user per month |
| REMIUM | $22 per user per month |
| ENTERPRISE | $34 per user per month |
5. Yesware
Yesware is also one of the best email management software for marketers and salespeople. It enables you to track emails, share email templates, create email campaigns and integrate with Salesforce and more.
Pros
- Email Tracking- Track your email data and help you know how the recipients engage with your emails, links, and attachments.
- Email Templates- It offers many prewritten messages for your reference and allows you to save your email as a template to reuse in the future.
- Create multi-touch campaigns- It enables to create campaigns with manual email, automated email, phone call, manual task, LinkedIn InMail to better reach audience.
Cons
- The email software has no built-in CRM features but for Salesforce integration. - It's a little difficult to organize the email templates.
Price
| | |
| --- | --- |
| PRO | 12$ per user per month |
| PREMIUM | 25$ per user per month |
| ENTERPRISE | 55$ per user per month |
*All the data about the companies mentioned in this article are referred from related websites as of July, 2019. Information and features are subjects to change. To report corrections, please contact us.
Conclusion
Email management software is now very essential for marketing, sales and service management. In order to boost your business, the best email management software in 2019 is required. Among many competitors in the marketing, one from the best 5 email management software above such as CloudCC would be a wise choice for you. They have the high quality of service and most superior technology. It's definitely worth the price.
Related Articles
What is Email Management Software and How Does It Work?
8 Best CRM Platforms for Every Business