How does the multi-channel service case management system help you solve the difficulties you face?
A customer service case system is the perfect solution to reduce your labor costs and provide a superior experience to your customers. Below we outline 5 major advantages of the service case management system.
Integrate Multi-channel Service Cases
Support multi-channel collection of customer service requests including web forms, phone calls, SMS, chat messages, emails, etc., and customer service staff can respond quickly on a unified interface.

Email:
Email records for the same customer service request you handle are recorded in one case, which is the best way to handle customer emails.

Instant Messaging:
By far the fastest and most convenient way of communication. You can chat with customers online to learn about their concerns, and provide timely and personalized help. If a customer issue requires further attention, the chat can be converted into a service case through the help desk software.

Call Center:
Efficient service case tool supports you to use the cloud call center with automatic voice response, call forwarding, voice messaging and missed call notification. You can convert the calls into service cases or associate them with existing service cases.

Web Form:
You can customize the customer self-service portal, allowing customers to fill in the necessary service-related information on the service request form in the service portal, so that customer problems can be directly converted into service cases.
Solve the Problem Instantly without Any Effort
A lot of time may be spent in case sorting, prioritizing, and searching for the right knowledge articles before the customer service staff can give a customer solution. For these tasks, an efficient case management system only needs one click to complete them.
Case Assignment
With CloudCC Customer Service Cloud, you can say goodbye to the trouble of manually assigning cases! You can intelligently assign cases to customer support agents or customer support teams by setting assignment rules.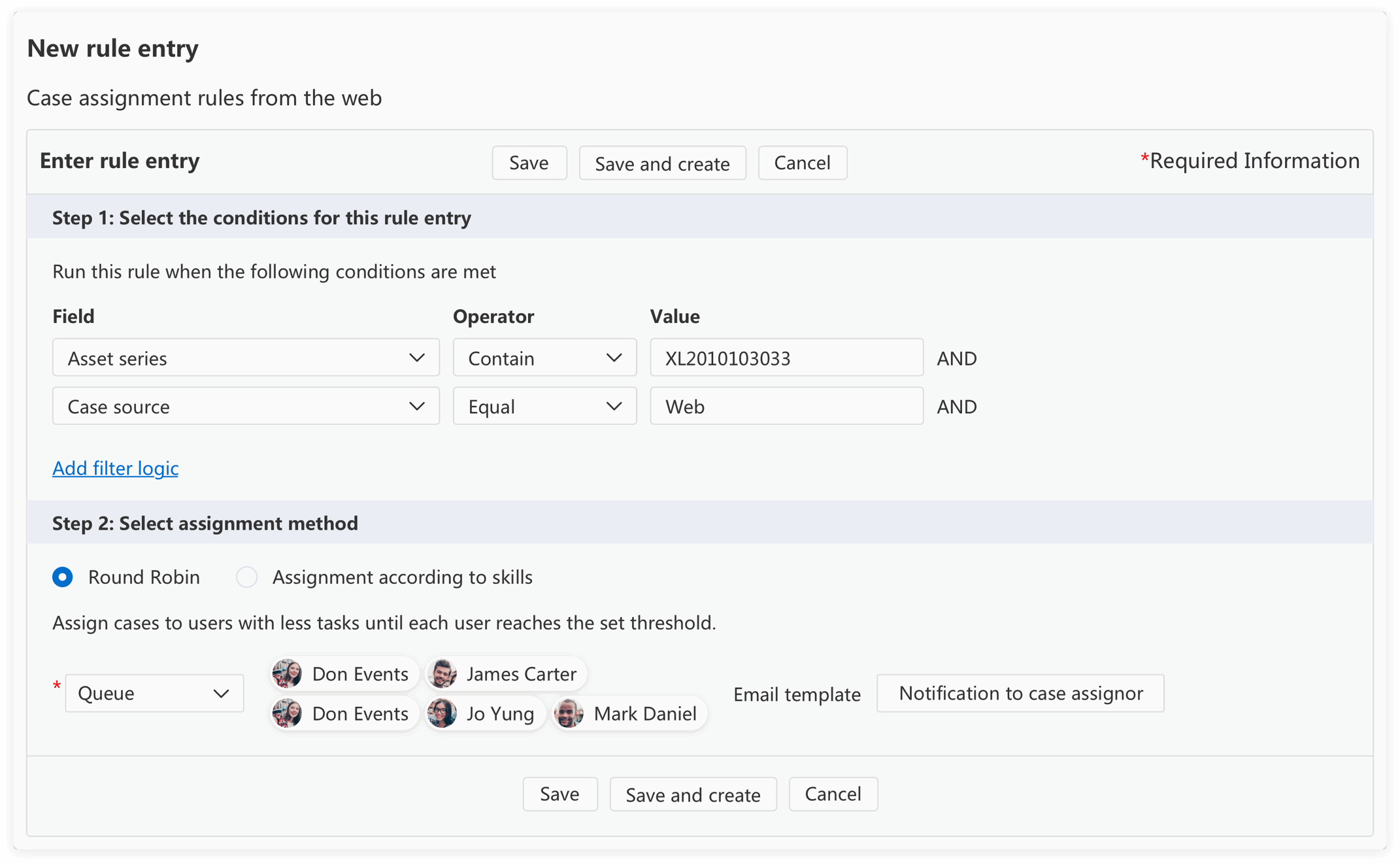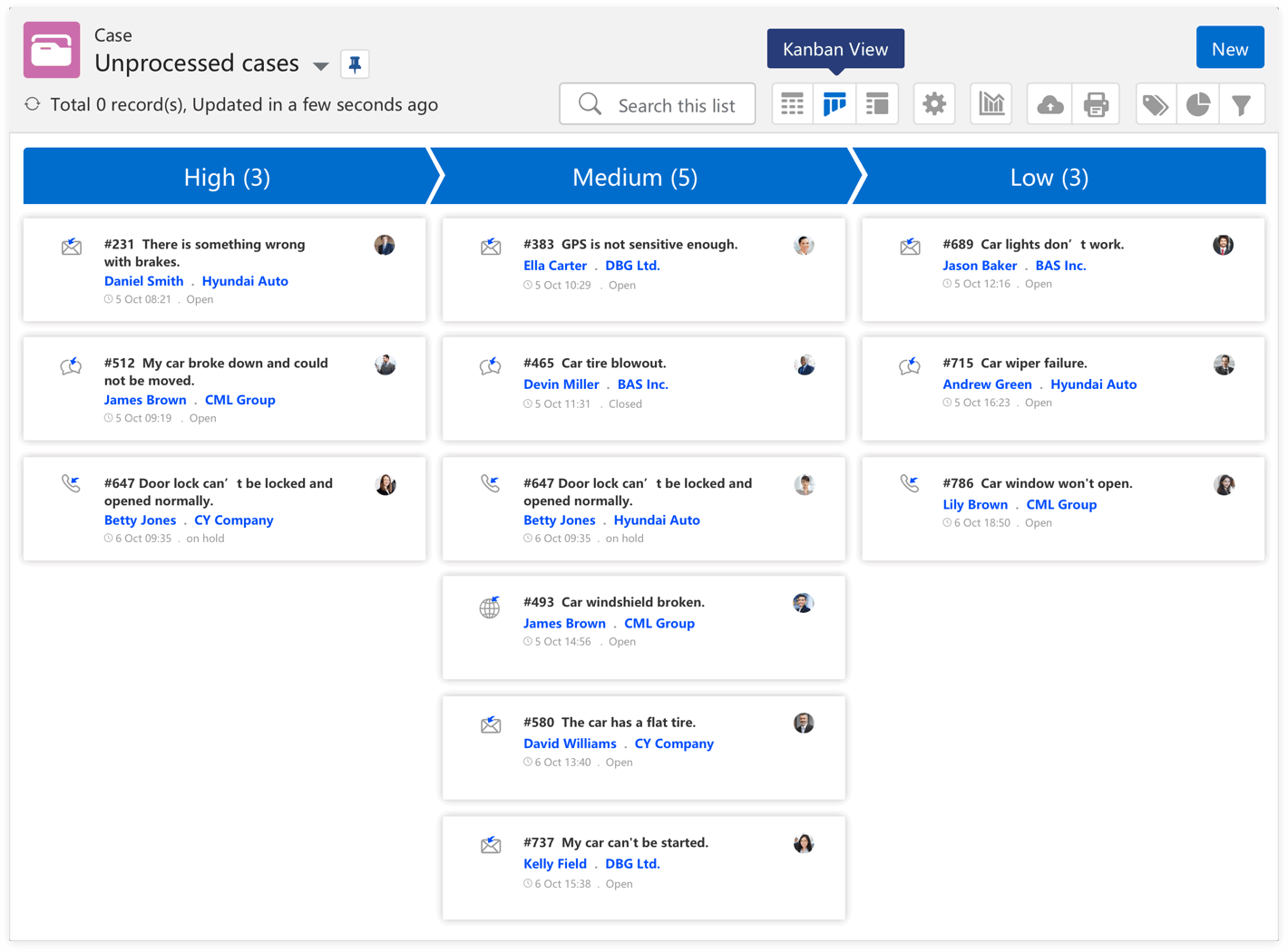 Customized Working Mode
You can organize cases with huge amount of data in one click. And you can customize the conditions for filtering and sorting cases by priority, status, urgency, and many other ways. It is convenient for customer service support to handle cases with different methods.
Display Case, Account, and Asset Information in One Interface
As a customer service support, handling cases often requires jumping through multiple pages to get a full understanding of the customer. As a customer, repeated self-introduction is a very bad experience. Our case management system can show you the customer's detailed information and interaction history at once.
Intuitive Case View
Show you all relevant information of the customer on one page, record and display all the correspondence between customer service support and the customer in one interface, making the problem simple and easy to handle.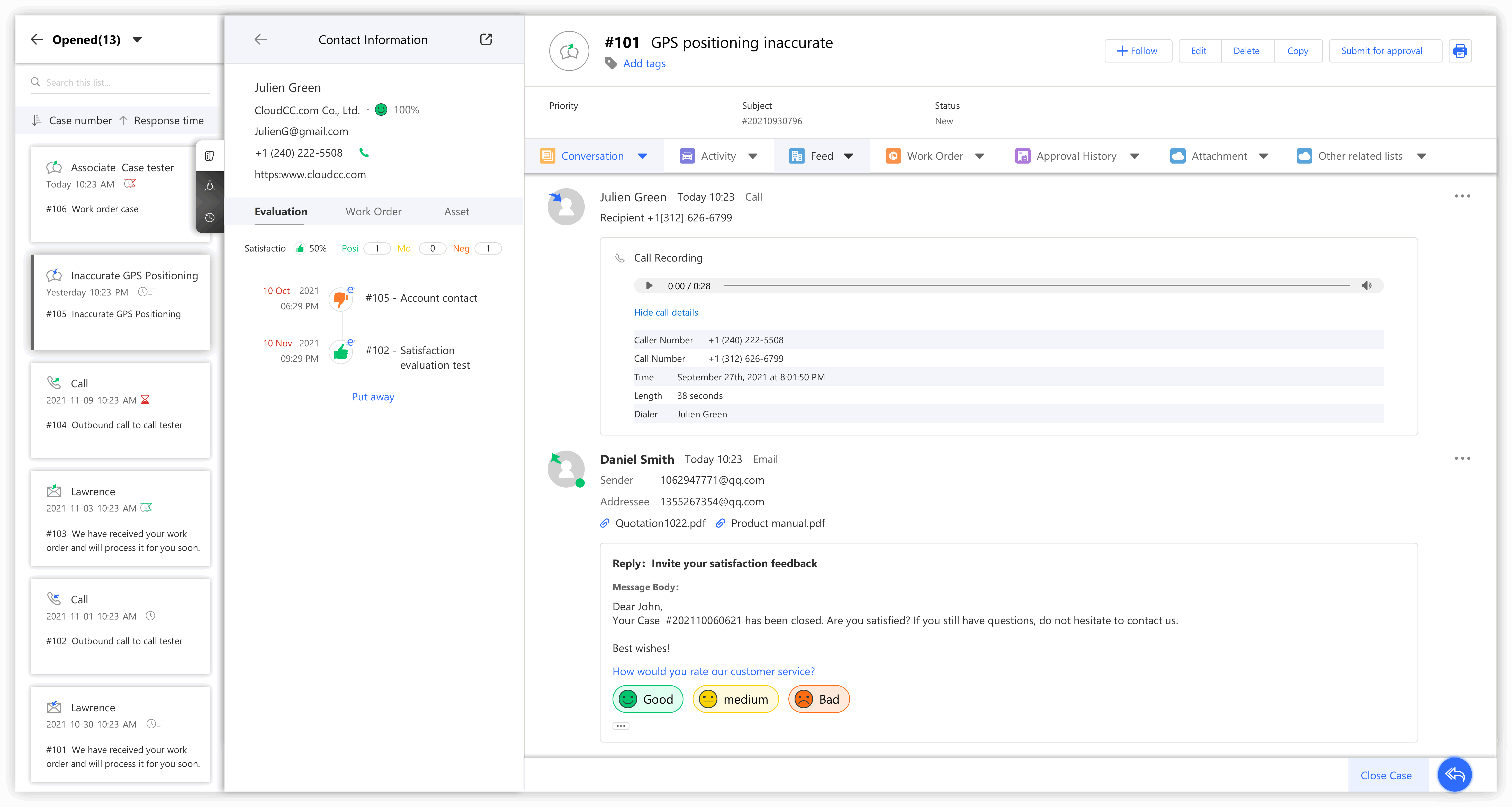 Quickly Merge and Split Cases
Customer service requests are often created as multiple cases due to different sources. You can quickly merge related cases to prevent customer service support from handling duplicate cases. For complex cases, you can also split them into multiple cases.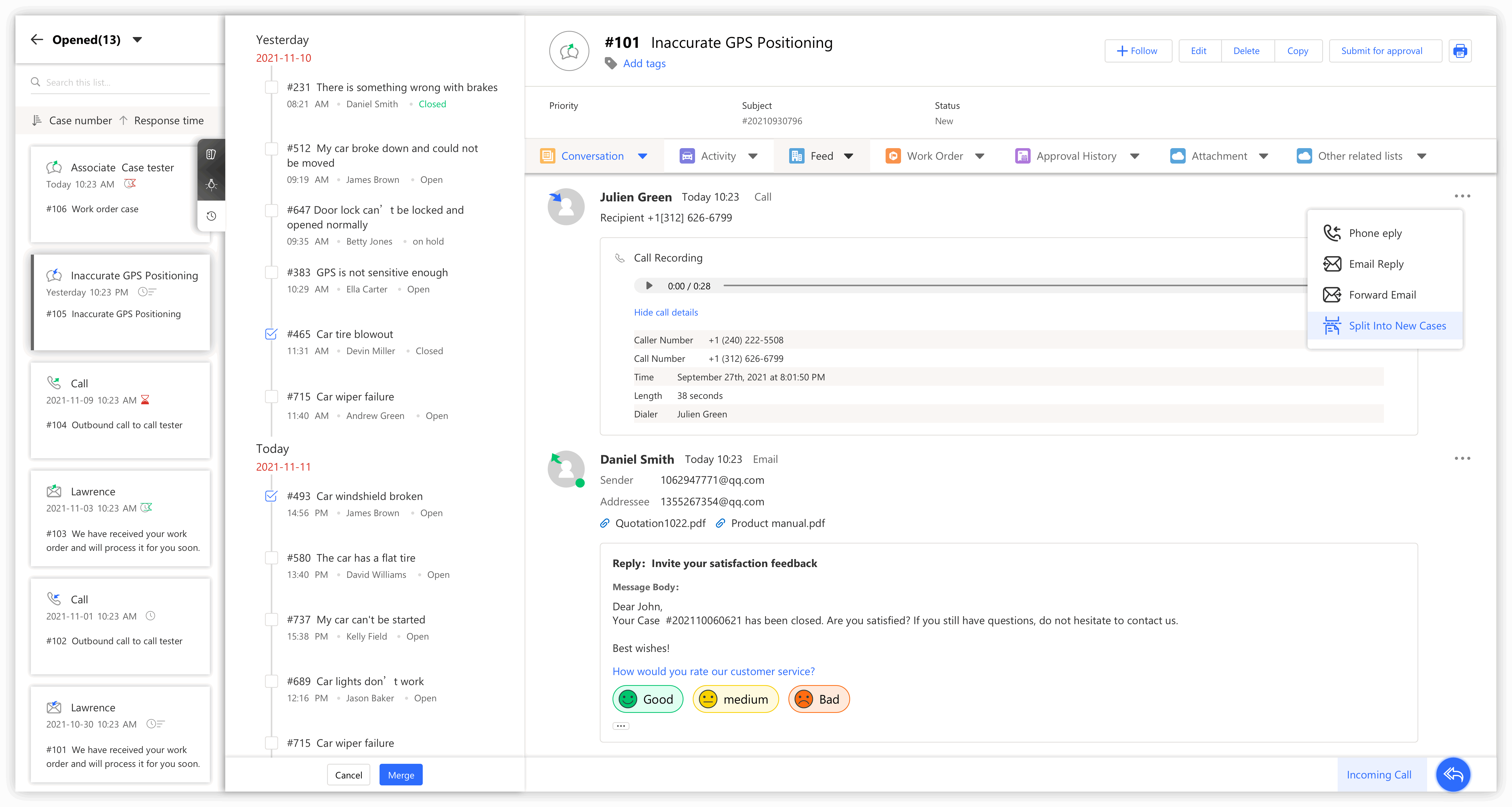 Work Order Processing Automation
A good case management system will provide intelligent automation and self-service capabilities to improve customer service responsiveness and get more customer satisfied feedback.
Meet the Service Level Agreement
To improve customer service satisfaction, you can set an SLA or service level agreement to highlight which cases require immediate response and ensure no cases violate the SLA. And you can set up workflow automation to perform actions automatically when the received case meets certain conditions.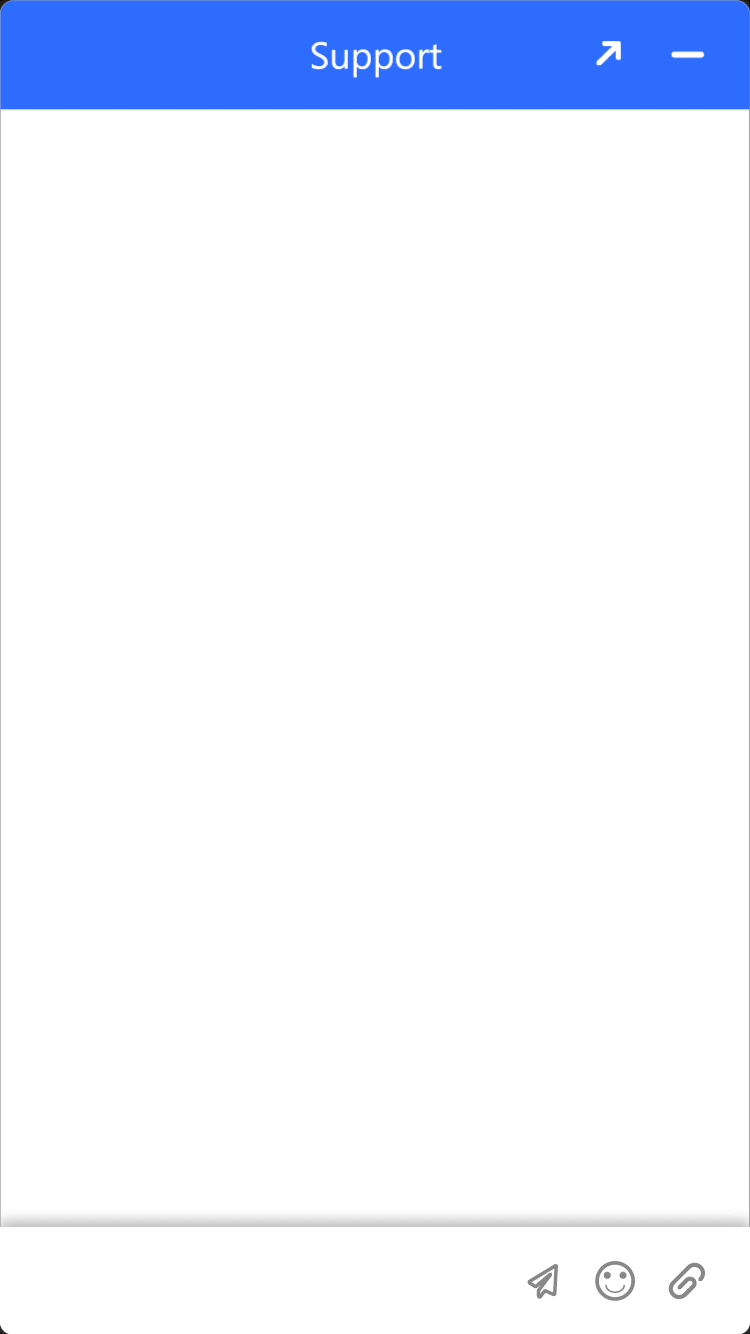 Chatbot
Customer service robot can take on the role of customer service agent in the absence of a human agent, and it can automatically answer customer questions and provide relevant solutions with knowledge articles. Over time, the robot will also learn and improve its problem-solving abilities.
Visual Charts for Real-time Visibility of Data
CloudCC provides powerful reporting and dashboard features to provide statistical metrics for leaders and employees to view. The visual statistical results are helpful for managers to see when metrics are trending downward and to intervene immediately.