Back to the list
10 Best CRM Applications Comparison and Reviews in 2019
September 4, 2019
The best CRM applications can bring together all the elements you need to improve workflow, generate leads, and automate tasks. What follows are the CRM applications comparison and reviews in 2019 that reveals top 10 CRM app suppliers in the field. What you may find surprising is just how inexpensive, yet efficient the choices have proven to be. If you want the best, you'll need to shop from one or more of these.
10 Best CRM Applications Reviews in 2019
A proper CRM applications comparison must include the following products which have made a considerable impact in 2019.
1. Zoho CRM App
The Zoho CRM app is one of the best customer relationship management tools on the market today. For as little as $12 per user, per month, you get a solid range of options that help marketing, sales and customer support together in the most efficient way. The plans range from $12 up to $35 per month and offer services such as lead generation, including social media leads, reporting, and advanced customization.
Customer support could be improved and the app itself is rather minimal. This makes Zoho CRM app good for those starting out, but you may need another app depending on your business size.
Rating: ★★★★
2. CloudCC CRM App 
CloudCC CRM app is popular for its multiple powerful features for sales and marketing team. It helps your team get things done efficiently with features of activities management, feed tracking, real-time reports and instant messages, etc.
This CRM application offers a free plan which covers most of the paid features and you cannot expect from other CRM applications. Its pricing is very competitive compared with others. It only starts from $5/user/mon, and then you can enjoy lots of advanced features as follows.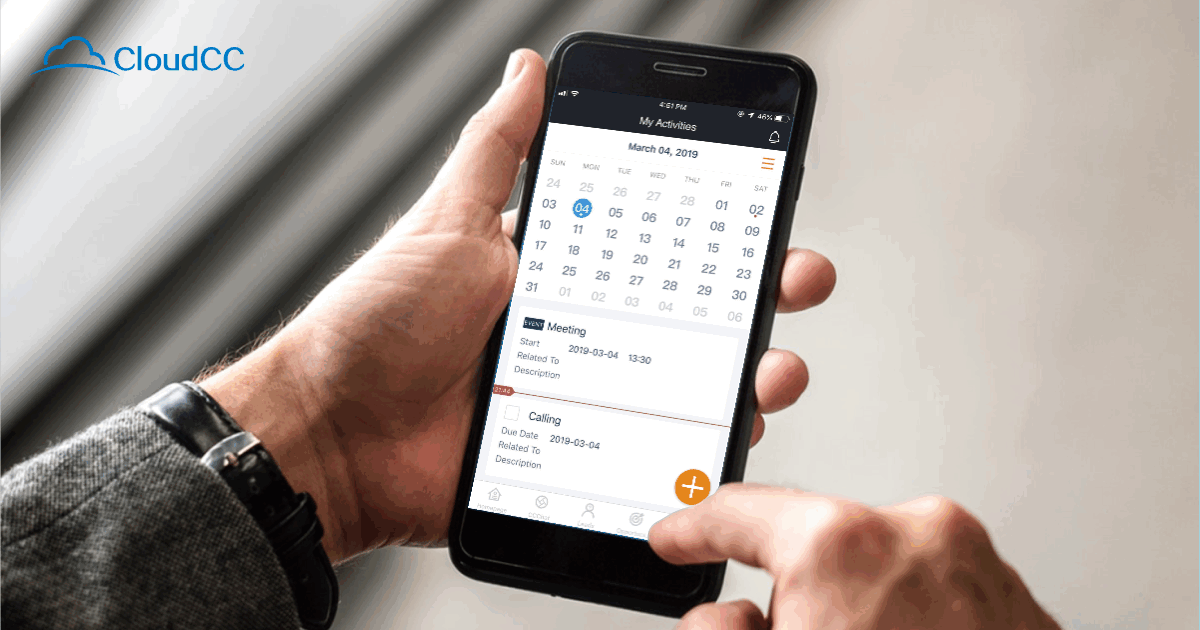 • Work Smarter Anywhere and Anytime
No matter you are going to travel or at home, you can keep control of your business with CloudCC CRM app. It supports the mobile devices of both iOS and Android systems. With one app, you can easily schedule your business activities, manage your sales tasks and close your deals in your hand.
• Lead Tracking & Feed Tracking
It can track your follow-up progress and the timeline shows the history of lead follow-ups, contacts, accounts, and opportunities. You can also enable feed tracking in the objects and fields you want to keep updated with the changes in real time.
• Real-time Reports
The mobile app can show the real-time reports and dashboards displayed on the mobile app, so that you can view the statistics of leads, accounts, and opportunities within a quick glance.
• Team Collaboration
Your team members can easily share and discuss the project information or opportunities within the mobile app through multiple ways including online chat, files sharing and shared-email.
What's more, your team can work together by sending posts, which is similar like the company internal forum. The members can make comments, ask questions, and create polls securely.
• Flexible Contact Management
The card Scanner enables you to save the contacts easily by scanning the business cards in multiple languages. It also allows you to import contacts from your mobile phone without repeated data.
Rating: ★★★★
3. Salesforce CRM App
What makes the Salesforce app so powerful is that it includes many different features at a starting price of $25 per user, per month. You get support, ecommerce and analytics applications along with marketing automation to help you hone your sales efforts. There is the Essentials edition for $25 per month and Professional edition for $75 per month.
Salesforce is best suited for companies with sales teams who have different territories. However, the learning curve is somewhat steep compared to other CRM apps.
Rating: ★★★★
4. Pipedrive CRM App
Pipedrive may be the best CRM application at presenting visually your CRM pipeline management. While the app itself is free, the subscription plans range from $12.50 to $99.90 per user, although you do get a free trial period. The main attraction is the visual pipeline which helps you pull together everything from personal notes to lead insights, product statistics, and the like.
However, the email messaging needs Mail Chimp to work and it could be better organized. Still, it's one of the best on the market.
Rating: ★★★
5. Hubspot CRM App
It's pretty good CRM app for medium and large business considering that the Hubspot CRM app iPhone offers a considerable number of features with an easy-to-use layout. Hubspot is also perfect for beginners that provides a free plan with unlimited contacts management and allows a large number of native integrations.
There are some disadvantages of Hubspot CRM app. E.g., customization is not a strong suit of Hubspot and the pricing and plan is a little confusing and expensive.
Rating: ★★★
6. SugerCRM App
One of the most popular apps of its type with over 2 million users across 120 countries, the SugarCRM app offers a strong number of features. For $45 per month, per user you expect such features which include email marketing, lead generation, management of tasks and territory along with social media integration.
It's a little pricy and clunky in terms of pulling together all the information. But it is quite extensive and perfect for those who want to get the most out of their CRM app.
Rating: ★★★
7. Connect CRM App
Connect CRM app is certainly one of the most popular options. From small companies to large corporations, Connect CRM can pull together a lot of people thanks to its remarkable ease of use and great features. It is a web-based auto dealership CRM app that enables automotive businesses of all sizes to manage lead reports, customer visits, vehicle preferences, inventory, sales, security risks and more.
The downside is that this CRM program does not offer a free trial. The dashboard can be a little confusing for those who are not technologically inclined, which makes keeping processes in place hard.
However, Connect CRM, as a quick CRM app, is still popular for a good reason thanks to its combination of flexibility and configuration ability.
Rating: ★★★
8. Odoo CRM App
Odoo is not only a CRM app, but also an integrated management platform with 1,000+ built-in apps to run a whole company. Starting at $20 per month, per user, Odoo offers some impressive CRM features that include tracking the leads, real-time reports for your performance overview and instant message for team collaboration.
The Odoo CRM app is not perfect, especially when internet connection speed slows down and it is registered as an "error". Still, in terms of overall communication within a business, Odoo should be mentioned in the best CRM application review.
Rating: ★★★
9. Nimble CRM App
Nimble lives up to its name by enabling you to work directly inside your Office 365 or G Suite inbox. So no need to integrate with too many apps, you can just manage your leads within your existing workflows. It can also help you target your prospects with custom tags and do smart follow-ups by analyzing its related business data and social insights.
A downside is that Nimble only works friendly for Office 365 or G Suite inbox. So if you are not a user of both of the two systems, you may need to find another CRM app to take full advantage.
Rating: ★★★
10. Cloze CRM App
Pulling together essential CRM features, the Cloze CRM app offers exceptional contact, lead, and relationship management capabilities all in a single app. Positives include getting email, notes, and phone calls all in one place for better management.
However, Cloze seems too simple for those who need more powerful features. It lacks some useful features such as sales automation, customization and real-time summary.
Rating: ★★★
*All the data about the companies mentioned in this article are referred from related websites as of July, 2019. Information and features are subjects to change. To report corrections, please contact us.
Conclusion
Finding the right CRM application for your needs requires some research. But you cannot go wrong if you start with these apps. Hope this CRM applications comparison will help you save time and make the best-informed decision about which to choose for your business. While all of them have their attributes, you should take the time to study the CRM applications review to see which one is right for the needs of your company.
---
Related Articles:
8 Best Free CRM Apps for Small Business
10 Top CRM Systems for 2019