Back to the list
The 5 Best CRM Apps for Every Business
September 27, 2019
When you started your business then, managing contacts may be not a big deal as the data were not much. But as the business is booming, there are tons of data you have to deal with ranging from customer's emails, phone numbers, etc. Hence, you need a Customer Relationship Management (CRM) app to help manage and keep track of everything.
How then will you know the best CRM app that suits your needs? Worry no more as listed below are 5 best CRM apps you can always choose from irrespective of the nature and size of your business.
1. Zoho CRM App
Zoho CRM App consists of word processing and spreadsheet apps and a hosted email service and accounting apps. This app has a great pricing point while offering tons of features on the go. It is an advanced app that captures leads from forms on your site and automates your workflow without hassles. It is worth mentioning that Zoho CRM software iPhone Version is a native application that enables you to access and work with your Online Zoho CRM data from your iPhone.
Zoho App brings leads through the sales funnel and uses the Pulse and Forecasting tools to know what most recent happenings are. It is one of the most used free real estate CRM systems recommended for its fantastic features such as visitor tracking, social marketing , customer surveys, professional analytics, etc.
Zoho CRM system offers "reports and insights" feature that usually comes in handy with the company grows and helps you make smarter business decisions. Zoho App goes for $12/user/month. Up to 3 users can opt into Zoho App for free.
2. CloudCC CRM App
CloudCC CRM App is one arguably the best CRM app that extremely deserves your consideration because of its advanced simplified features. It enables excellent marketing automation & sales force automation and can be as well used with its professional marketing services.
CloudCC CRM App's innovative functions, easy access, customizable platform, and flexibility make it a force to reckon with when considering the best CRM app that has it all. It has augmented its mobility features with the sole purpose of growing sales revenues on the go. CloudCC also allows you to view nearby customer locations on the map and schedule appointments. In this way, navigation towards the customer becomes more accessible.
With the use of CloudCC CRM App, you can have an overview of the scheduled tasks and events and modify the activities from mobile phones and quickly follow up. Leveraging their industry experience and developing capabilities, it is the most affordable CRM app to all businesses irrespective of size.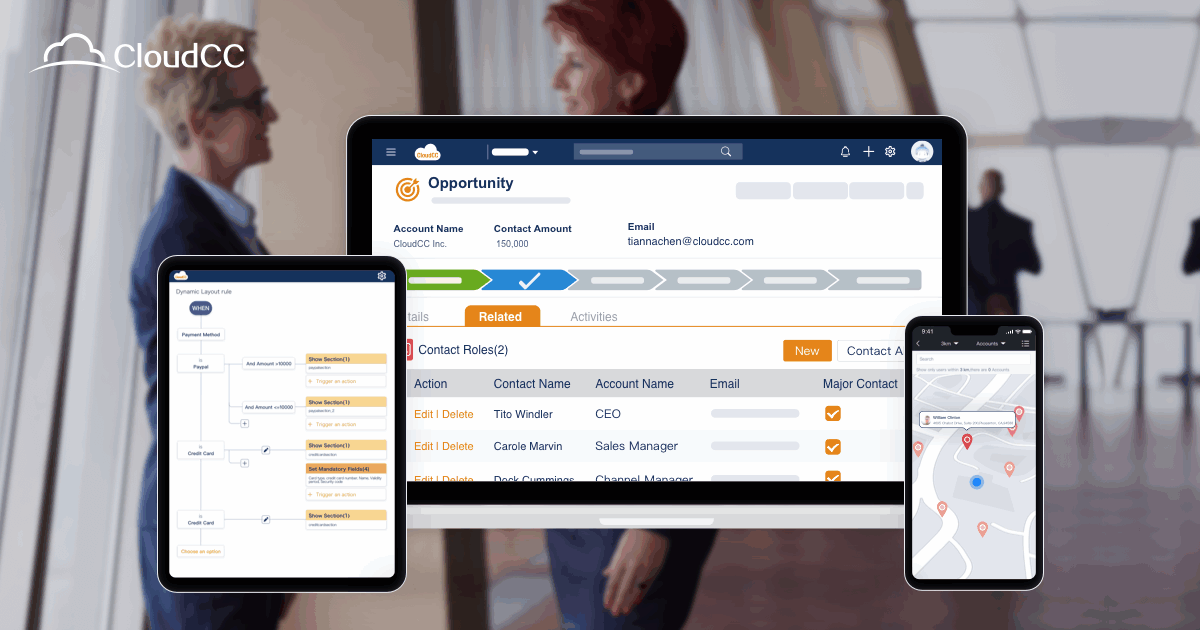 CloudCC CRM takes pride in its top features that make it arguably the best CRM include account management, lead & feed tracking, real-time reporting, account and contact management, opportunity management, etc.
Bonus! CloudCC CRM is especially regarded as both the best free CRM Android app and the best free which offers both free trial version and paid version. The Professional Plan starts at $5/user/mo and you can run your business with all core features.
3. Solve CRM App
Just as the name implies, it solves the problem of tracking different things in the CRM. It integrates with Google Sheets, so you can make custom reports directly in a spreadsheet with your raw data. Mail merging and personalization of documents are even possible by virtue of the Solve CRM App. No matter you download the best free CRM Android app or the best free iOS App from it, its price is about $25 per user per month, with a minimum of four users.
4. Batchbook CRM App
Batchbook CRM App offers a lot of socialization as part of its core value. It integrates with your email apps and social media accounts and adds contact info from them. With its integration to Hootsuite, you can connect easily with pockets of social networks present in Hootsuite. Though, the upfront price looks higher but every other CRM on this list charges based on the number of users. It has a pricing point of around $55 per month for limited users.
5. Streak CRM App
With the streak, you can easily share email conversations with your sales reps inside Gmail, organize messages in pipelines, and add notes to conversations that your whole sales team can peruse. You can customize on it and enable tools great tools on it. Tools such as for reminding you about important messages, delay sending emails until the stated date and time. This app goes for $39/user/month.
Conclusion
No matter you are looking for the best desktop CRM app, the best free CRM iPad app or the mobile app, the above listed CRM apps are the best 5 apps you can choose from any time and since you have known each one them now. Why not choose one and put it to work?
Related Articles
What is CRM Application And Why is It So Important for Your Business?
10 Best CRM Applications Comparison and Reviews in 2019