Back to the list
6 Best CRM Systems That Are Easy to Use
October 11, 2019
As a business owner, you have to go through lots of struggles to manage your customers. However, you cannot afford to lose any of your customers. If you do, you will be missing out onsome of the best opportunities available out there. That's where the best CRM systems would come into play. The CRM you get for your business will help you to onboard all your customers and take them throughout the user journey. This can help business owners to get the most out of existing customers and new customers.
Here are 6 of the best CRM systems that you can get.
1. PipelineDeals
PipelineDeals is an effective and simple online CRM system that a business can use. It comes along with a large number of useful features. You will find this as one of the most user-friendly online CRM tools as well. When you are using PipelineDeals, you can easily overcome the complexity of CRM processes. The experience offered to you with PipelineDeals is user-friendly and intuitive. Hence, you can create profitable relationships with customers. PipelineDeals can help customers to track their sales and marketing campaigns effectively as well. The biggest drawback associated with PipelineDeals is that it is quite expensive.
2. CloudCC CRM
CloudCC CRM can provide powerful overall assistance to you with finding and managing leads in a smart manner. You will never miss out on a lead when you are using CloudCC CRM. The dashboard offered by CloudCC CRM can help you to take care of all your contacts and get them to contribute more towards your business. In fact, you can sell more productively with it.
Features that are available to you along with CloudCC are the major reasons behind its popularity. For example, you will be able to get your hands on customer service analytics with ease. Along with that, you can also track customer support offered with the help of this tool. Knowledge management and email response control are some other features offered by CloudCC. Also, you will be provided with comprehensive live chat capabilities as well.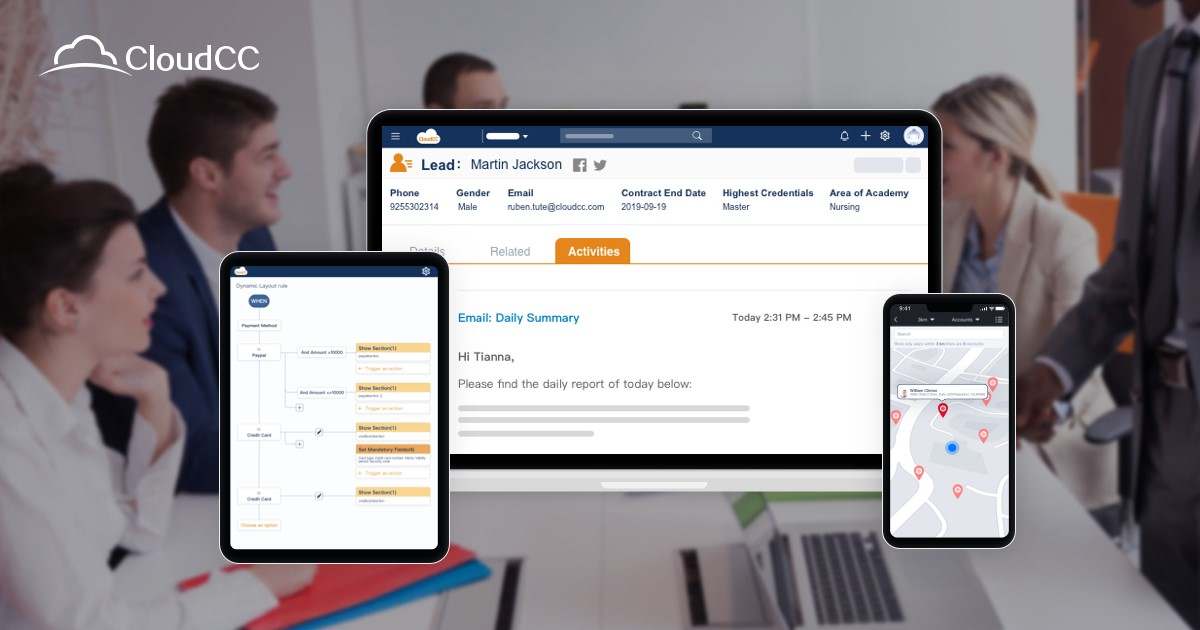 √ It enables you to get connected with your business on-the-go by scanning business cards, mapping your customers, managing the activities, moving opportunities faster, collaborating with colleagues and defining your own app.
√ It enables you to automate workflow smarter and faster as it greatly helps to manage leads, account and contact, opportunity as well as product, quote and contract.
√ It enables flexible customization which allows creating the customer-way of CRM to serve the practical and accurate demands.
√ It enables easy access with an affordable pricing plan and a free trial version with multiple functions.
Any kind of business can adopt CloudCC without any hesitation regardless of the industry. It can definitely provide the push that businesses need to ensure success.
3. Nimble
Among the best customer relationship management systems, you can find the name of Nimble as well. It is the best tool available for a business that has multiple channels. It can also provide you with the chance to focus on some of the most important aspects of your customer journey, including data organization, customer engagement and sales insights. You can record every customer contact point with the help of Nimble as well. However, Nimble doesn't provide you with a comprehensive mobile app.
4. EngageBay 
Many business owners consider that EngageBay is the easiest CRM to use. This CRM tool can make life easy for you by bringing in marketing, sales and service activities into a single platform. Some of the most outstanding features that you can discover in EngageBay include live chat, sales, and marketing automation as well. Some effective engagement tools will be offered to business owners who use EngageBay. In addition to that, you can find separate modules for ticketing, customer feedback and help desk as well. EngageBay is designed more for small scale businesses and that's the main drawback that you can find in it.
5. NetHunt CRM
Among the best online CRM systems available on the internet, you can find NetHunt CRM as well. In fact, NetHunt CRM is designed for business owners who use G Suite. If your business email is based on G Suite, you can take a look at NetHunt CRM. The most impressive feature that you can find in NetHunt CRM is that it is customizable and scalable according to your specific business needs. NetHunt CRM is offered to you completely for free as well. However, it will take some time for you to get feedback from customer support for your raised tickets.
6. Nutshell CRM
Nutshell CRM is a handy and efficient online CRM system available for you to use. You will be able to use this tool to attract customers and retain them with ease. Nutshell CRM has been designed for businesses in all stages. This tool has received lots of attention on the ability to deliver excellent reporting and analytics. When you are using Nutshell CRM, you will be able to scale it according to your business as well. For example, you will not have to experience any storage restrictions, reporting caps and user limits. You can sign up for Nutshell CRM at an affordable price tag as well. Before you do that, you can get free sign up for a trial, but the features are quite limited.
Final Words
These are the best options available for any person who wants to find the easiest CRM system to use as well. All these CRM tools can help you to get the benefits linked with CRM. You will be able to take your customer engagement to the next level with the help of the CRM tool that you select. Hence, deciding to go ahead with a CRM tool out of these is an excellent investment that you can do.
Related Articles
What Is A CRM System: A Guide for the Beginners
How to Choose the Right CRM Platform for Your Business