Back to the list
The Best Free Online CRM Software
October 18, 2019
If you are a business owner who wants to manage your customers efficiently and engage with your customers along with time, you need to think about getting your hands on a CRM software.
It is a must for all businesses out there. That's where we thought of providing you with a list of some of the best CRM software available out there. You can go through this list and figure out which is the best free online CRM software suitable for you.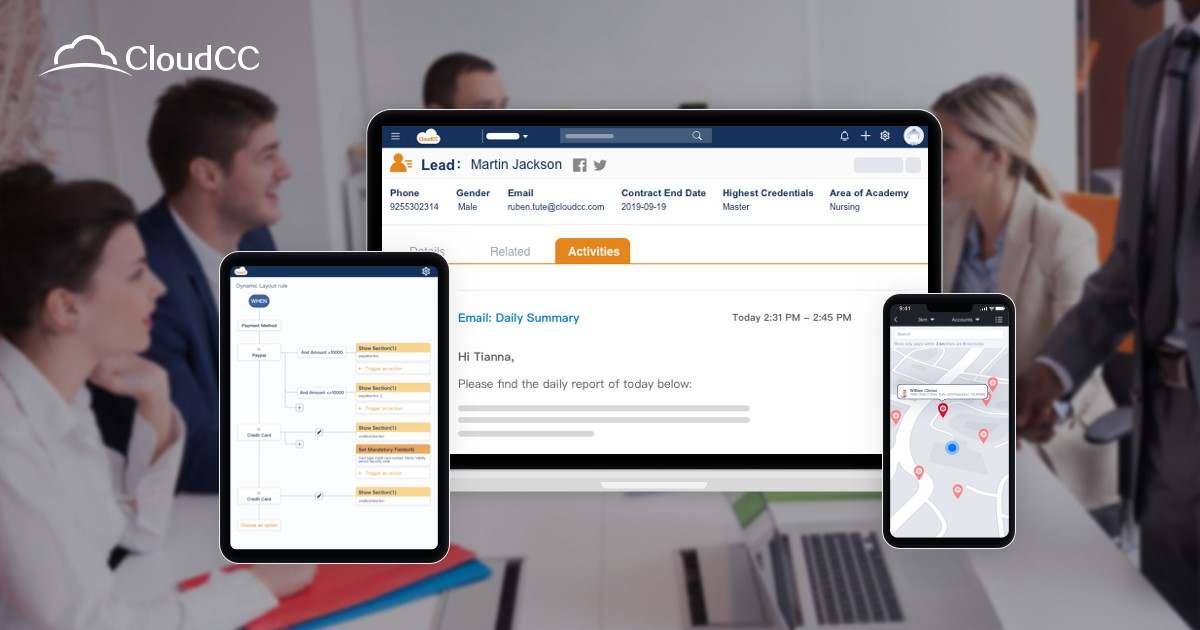 If you are looking for a reliable online CRM software, you are encouraged to take a look at CloudCC CRM. This tool can help you to manage the entire customer life cycle in a hassle-free way. It can deliver outstanding results to businesses that exist in many different industries, including IT, education, manufacturing and life science. Both small scale and large scale firms will be able to reap no little benefit from CloudCC CRM.
CloudCC CRM can automate the sales process. For example, it empowers to generate leads from your web by setting up the names, phone numbers, email addresses and other related information of the specific customers. Along with that, lead records will be generated as well. On the other hand, CloudCC can provide you with a rule based lead scoring mechanism, which helps you with figuring out who the potential leads are. Then you can focus more on following up those leads to end up with better results in making more sales.
CloudCC takes pride in its free trial version which includes a series of powerful features as well at no cost. On the other hand, it is extremely easy for you to use as well. Along with that, you will be able to get your hands on real-time reports. The collaboration will become a lot easy due to the presence of online chat. You can quickly scan business cards with the help of CloudCC as well.
Pros
1) It turns customer service analytics into an enjoyable and easy experience.
2) You can take care of the entire customer life cycle with the help of CloudCC CRM.
3) It can help you with knowledge management and retention.
4) Improved ability to cross-sell you will get as the more you know about your clients' needs and wants, the better able you are to provide the solution to their next problem.
5) It provides an effective and reliable way to enable increased team collaboration and efficiency in serving clients.
2. Apptivo
Apptivo is gaining a solid reputation in the online CRM software market. It is a free CRM that provides you with the ability to take control of quotes and product management. It is one of the easiest CRM tools available for you to use. You will be impressed with the user-friendly interface and the drag and drop features available. Other prominent features that include in Apptivo include sales and marketing activity tracking and lead and contact management.
Pros
1) Apptivo provides excellent customer support to the users.
2) You will be able to get your hands on an Android app, which can help you take control over customer management with ease.
3) You can easily use Apptivo without coming from a technical background.
Cons
1) It fails to add custom fields with the free plan.
2) It can be difficult to navigate and customize if you're unfamiliar with such a CRM app.
3. Insightly
When you go through the online CRM software reviews, you will figure out that Insightly is gaining lots of attention in the recent past. That's because it comes with comprehensive project management capabilities. Insightly can also be considered as a user-friendly and easy-to-use tool. You can manage contacts through Insightly with the help of a Gmail plugin. You will also be able to send out bulk emails with the help of the free plan. In addition to this, Insightly will help you to convert leads into opportunities with minimum hassle.
Pros
1) You can easily create custom fields.
2) Following up your crucial contacts will be much easier.
3) You can get hold of a comprehensive mobile CRM app with Insightly whenever and wherever possible.
Cons
1) Options available for you to get in touch with customer support is limited.
2) It's rather pricey. The free version does not provide all of the features that make this product worthwhile over that of the competitors.
4. Revamp CRM
Revamp CRM is also among the options when you're looking for the best online CRM software. It is available for both small scale as well as large scale companies. The most prominent benefit that you can get from Revamp CRM is the ability to manage all your contacts from a single interface.
Along with that, Revamp CRM will provide you with access to robust email marketing capabilities. It can be not only used to track activities, deals and orders, but also manage, segment and email your customers as well as lead.
Pros
1) Revamp CRM can help you to smoothen your project communications.
2) You will be able to integrate Revamp CRM with Gmail.
3) It can provide you with automated reminders.
Cons
1) The paid plans of Revamp CRM are quite expensive when compared to other options.
2) The whole user interface makes some users feel old school and clunky.
5. HubSpot
If you are looking for the online CRM software free download, HubSpot can satisfy you as well. It is designed specifically to assist the sales teams by getting their work done expertly. If your business operations are in multiple locations, you will be impressed with the flexibility that HubSpot can offer. Also, you will be able to manage the sales pipelines with ease as well.
Pros
1) It can provide you with excellent integration capabilities.
2) HubSpot provides mobile support.
3) HubSpot can provide great value for money.
Cons
1) The premium plans of HubSpot are quite expensive.
Final Words
Now you have a solid understanding of the different options available out there for a person who is looking for the best online CRM software India or in other countries. Go ahead and pick the best one out of these and proceed. You will get impressed with the results that come on your way as well.
Related Articles
Top 5 CRM Software to You Should Consider in 2019
CRM Software Reviews - Price & Functionality Comparison?