Back to the list
CloudCC Announces Enhanced CRM System to Boost Business Productivity
August 8, 2019
California, August 3, 2019 – CloudCC CRM, the innovative CRM system supplier has recently released its enhanced CRM system that empowers the business world with its rich features and customizable platform. With the release of this enhanced CRM system, CloudCC CRM has moved another step forward to its mission of providing easy, effective and affordable CRM solutions to global users.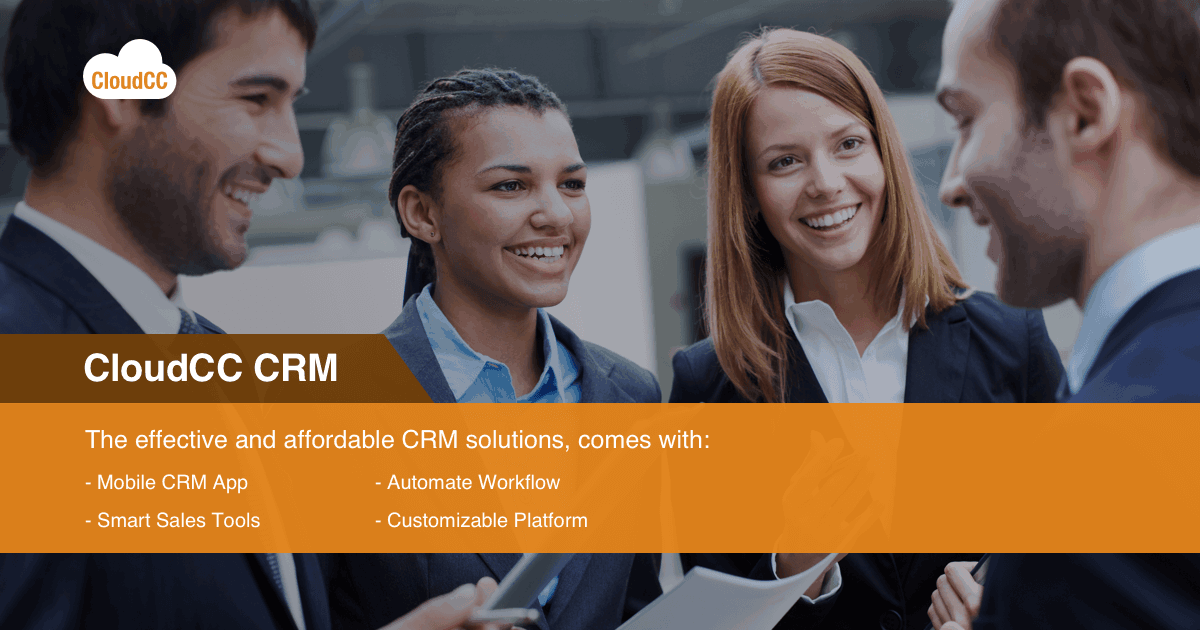 The CRM market has always been crowded these years with around 380 brands of CRM software listed on G2 Crowd. The figure would be larger if includes the unlisted vendors. As Smarter With Gartner shows that the market for Cloud based-CRM systems will reach $42 billion in 2019, and what makes CloudCC CRM confident to compete in this promising yet challenging industry? The innovative functions, easy access, customizable platform and flexibility contributes a lot to their success.
Get Connected with Your Business On-the-Go
Some note that we are in a "digital world" with great mobility and interaction each day around the globe. In this interconnected environment, the global usage of mobile devices is forecasted to reach 4.68 billion by 2019, which shows the necessity of mobile CRM in handling business. CloudCC CRM has augmented its mobility features with all that needed to grow sales revenues on the move.
Scan business cards - No extra apps download and CloudCC CRM allows users to turn business cards into new digital contact, leads, or opportunities whenever attending meetings, conferences or events. The business cards can be easily saved by one click even if it is in other foreign languages;
Map your customers - View nearby customer locations on the map and schedule appointments, easily navigate to your customer's location and log the visit.
Manage the activities – Get an overview of the scheduled tasks, events or meetings or modify the activities from mobile phones and easily follow up with reminders to be informed of what has happened throughout the previous communications. The management of sales team becomes effortlessly with managers to view the details of all sales representatives' activities to better assign team tasks;
Move opportunities faster – Check in at customer locations to record visit and update contacts or opportunities right after every appointment instead of getting back to your desk to write down the details. Arrange a new meeting with other nearby customers by geo-locating to move the process faster;
Collaborate with colleagues – With instant messaging, team collaboration becomes super easy. Create chats, share contacts/files/leads, group discussions, polls & surveys, personal feeds and more to collaborate with teams on the go;
Define your own app – Select the fields and define the visuals, tool bar and layout as the most preferable way to better suit to personal taste.
Automate Workflow Smarter and Faster
Reach out to prospects at the right moment and manage the workflow in a smarter and faster way by using the CloudCC CRM sales force automation. The outstanding functions that accelerate business are as below:
Lead Management – Set the rules for capturing, assignment, conversion and tracking and all the work will be done automatically as planned. Capture the most valuable information, assign to the right sales representative, and score the lead using related metrics to figure out the priorities;
Account and Contact Management – Grow stronger customer relationships with a 360° account view and contact role hierarchies from CloudCC CRM. The 360° account view reveals any detail of the prospects across the entire business life-cycle and contact role hierarchies shows the relationships between contacts to identify the decision makers;
Opportunity Management – Get an overview of all the opportunities and highlight the most important opportunities by critical details in each opportunity from the pipeline flow. Use the amazing opportunity genius function to find other Closed Won or Closed Lost opportunities that match the attributes of a specific opportunity to help close more opportunities.
Product, Quote, and Contract Management – Users could also manage the products, quotes and contracts in CloudCC CRM to sell the right product to the right person, identify the reasonable price/quotes and manage contract timely.
Customizable Platform
The developer tool enables users to custom CRM platform to reflect the company vision as well as visuals. The customization allows creating the customer-way of CRM to serve the practical and accurate demands.
Custom and Create – The standards filed and opportunity stages could be changed or newly added to fit different industries, and about 28 types of fields are available for diverse demands. Rules can be created based on the specific business rules to automate the whole cycle in the customer's own way;
Workflow and Approval Process – Teams can automate routine tasks based on regular workflow criteria and actions. In the same way, the in-house approval process could be specified and actions generated to respond when a record is approved, rejected or recalled.
Record Types and Page Layouts – Custom the record types and page layouts to differentiate deals in the aspect of business processes, user permissions or other parts.
Integration – CloudCC CRM has integrated with many third-party applications you use every day, like Zapier, LiveChat, MailChimp, Dropbox, QuickBooks, and more.
Easy Access with Affordable Price
The great developing capabilities and industry experience enable CloudCC to deliver the most affordable CRM solution to business of all sizes. The starter plan is only $6/user/month for all the above mentioned functions which is only 30% of Salesforce-Sales Cloud price, and 12% of Hubspot price with equal functions. The support is excellent with free and 24*7 online support while other vendors may need extra costs for certain types of support. In this case, CloudCC CRM is the most cost-effective CRM solution in the marketplace.
"We were thrilled to announce this enhanced CRM system to help worldwide users scale their business growth," spoke Martin Sun, CloudCC founder "simplicity, usability and affordability of the system are our aims and now we made it. Still we will go on to help each scale of business with their growth".
For more information please visit https://www.cloudcc.com/ .
About CloudCC
CloudCC offers the complete CRM platform with highly competitive pricing, features business apps covering marketing automation, sales force automation, service management, extensible platform and industry CRM solutions and more.
Software as a service – Capture visitors from your website, automate your operations, plan your daily tasks, support your customer service, and more applications you need.
Platform as a service – Depth customization helps you build your own business process and make CloudCC work as your way.
You can find out a CRM solution we can do for you. We have many clients from all over the world. No endlessly printing sheets, save time and money by automating your routine tasks and put your business on auto-pilot.