Back to the list
CloudCC Updates Email Feature to Improve Overall Engagement & Productivity
November 26, 2019
California, Nov 26, 2019 - We have updated the email feature within our CRM system, which enables users to connect emails to leads and contacts, use email templates and track emails intelligently. Users can get a full overview of what is happening of a deal via Email Offering, thus improving overall engagement and productivity in different campaigns.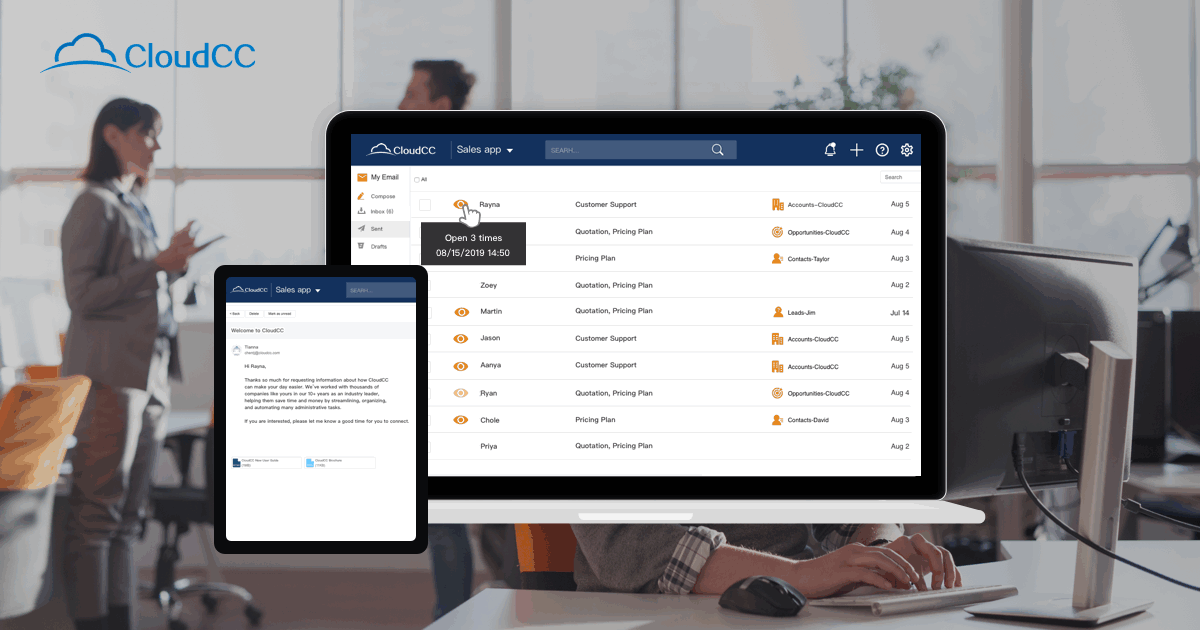 Emailing is one of the strongest and most efficient ways to reach, attract and retain the customers. 91% of B2B (business to business) marketers in a Content Marketing Institute study rated email as "important" or "extremely important" to their content marketing distribution efforts. The average person checks their email about 15 times per day. If used properly, an email will have a tremendous return-on-investment of over 4,000%, which means that every dollar user spends on email marketing can have the potential to bring it a $44 return. But in modern society where efficiency plays a vital role in every sector, how to achieve this goal and run such a process like floating clouds and flowing water? Get smarter with CloudCC email management to personalize communication with the customers and improve sales productivity.
Why CloudCC Pays Off To Rank Ahead of Email Management Solutions?
Time-Saving Email Sync
With emails flying everywhere, it takes much time to switch between the email inbox and the CRM system. Users sometimes may don't know whether the email is from a new prospect or client, so users need to search the email address in the CRM system for final confirmation. Even a mission can be accomplished, but that's definitely a whole lot of time spent on retrieving one email. Luckily, now, a new easy and time-saving way to manage a series of emails is available by connecting the email with CloudCC. All the communication within emails will be consolidated and organized so users never have to hunt down a chain of back-and-forth again.
Cutting-Edge Sales Inbox
CloudCC offers a cutting-edge "sales inbox" which can be fully synced to any major email provider. Then users can send and receive emails directly from CloudCC. Every time users forget to respond to an email may mean the opportunity to close a deal will be missed. The more promptly users respond to emails, the more likely a deal will be struck. However, when doing the daily sending email tasks, such a sales inbox can empower users to reach customers easier and more reliable than ever and connect with the target customers.
Custom Email Templates
According to a recent survey, salespeople spend just one-third of the day talking to prospects, who spend 21% of the day writing emails. Each emailing process may cause much complexity and waste a lot of time. But now, users can customize the personal email templates for future convenience. Various email templates can be designed to make each sales email stand out among the countless sales emails sent to the customers' inbox and finally maintain a significant personal touch. Furthermore, it is feasible to get rid of traditional text format and the mundane task of typing the same email over and over again. Instead, users can add colorful pictures and embed registration links in the emails. Thus, users can focus on better introducing the products and services provided to attract more prospects and boost sales.
Intelligent Email Tracking
In the past, it was normal to have no idea what happened after we sent an email. Until now, CloudCC makes it possible to let users know when and who opens the emails, links, and attachments so users can build better relationships faster. Users just need to click the "send" button to send the emails, while CloudCC will handle the rest:
● Analyze the performance and measure the results of emails from the sales CRM by tracking the open and click rates.
● Connect with the customers and prospects directly by helping users check when the email has been received, how many times and when the email has been opened, as well as which link has been clicked.
All these allow users to identify hot potential leads, further reach out to customers at the perfect time and see whether to send the next follow-up email, finally drastically increasing development opportunities and prospering in business.
Attractive Email Settings
Attractive email settings give users the power to capture more people's attention in this exceedingly crowded and competitive inbox environment. Don't hesitate to enrich the email to boost email efficiency and productivity.
● Connect the email to deals with relevant leads, contacts, and opportunities. It is designed to allow users to update the deal association of inbound emails, even the sender is attached to multiple deals. Therefore, users can have a full overview of everything of each stage that's happening with a deal in one place.
● Add files to email from the CloudCC file library directly. Users can preview the body and attached files of each email, or get full control of all information on one screen.
This is one of the highlights in this latest version. CloudCC lets users add keywords or any additional info to a group of records. Once tags are applied to the emails, an innovative and more efficient way is ready for users to categorize, search, sort and filter records associated with that tag. Users can add personal or public tags with words or short phrases that can be associated with records to describe and organize data in a personalized way.
Mobile Emailing
According to Adestra's "Top 10 Email Clients" report (July 2019), 61.9% of email opens occurred on mobile. While according to Litmus's "The 2019 Email Client Market Share" report in the same term, mobile clients account for 41.9% of email opens during Q1 2019. More and more users are using mobile devices to access emails or other types of information. One can imagine that email on mobile will continue to grow and grow, which will be also significant and come into play when conducting any marketing strategy. While CloudCC always keeps up with the times and exploits its mobile functions to better satisfy the users. With CloudCC email feature, well-designed emails can definitely produce higher conversion rates, especially on mobile devices, owing to great convenience.
By introducing the new updates, CloudCC moves another step forward the aim of providing simplified, reliable and effective management tools for all business scenarios. "The updated email feature helps to promote systematic internal and external communication, boost business productivity, and facilitate more successful transactions. Of course, what we have done is to prioritize our email service and strive to enable happier customers," said Martin Sun, CloudCC founder.
For more information please visit https://www.cloudcc.com/.
About CloudCC
CloudCC offers the complete CRM platform with highly competitive pricing, features business apps covering marketing automation, sales force automation, service management, extensible platform and industry CRM solutions and more.
Software as a service - Capture visitors from your website, automate your operations, plan your daily tasks, support your customer service, and more applications you need.
Platform as a service - Depth customization helps you build your own business process and make CloudCC work as your way.
You can find out a CRM solution we can do for you. We have many clients from all over the world. No endlessly printing sheets, save time and money by automating your routine tasks and put your business on auto-pilot.