Back to the list
How to Choose the Best Faculty Evaluation Management System?
November 22, 2019
Faculty evaluation management systems are used to coordinate educational activities planned by organizations like colleges, schools, and universities. With faculty management, the learner can access their grade books online thereby allowing the faculty to connect with the learners with ease. They provide seamless technology as this helps to maintain data of faculties like credentials and personal expertise.
Major Challenges of Faculty Evaluation System
As per a recent report, the faculty evaluation system seems to be a huge challenge as it is heavily gender-biased. The report revealed numerous statistics as student ratings for female teachers are found to be better in observable qualities including grade score in contrast to the male teacher. Many factors contribute to the design of a faculty evaluation process. A faculty should be knowledgeable enough to assess a student and should have the ability to provide proper handovers to them.
Feedback from a student will be considered while evaluating a faculty but it should not be the sole evaluation factor. Faculty valuation structures need to introduce the latest faculty evaluation system like self-assessment, peer reviews and course analysis to promote a fair evaluation of faculty. This leads to a comprehensive view of the success of the department and defining areas of improvement. The instruction of faculty members is considered as a qualitative factor in various institutions that can be utilized by students, co-workers through these online systems.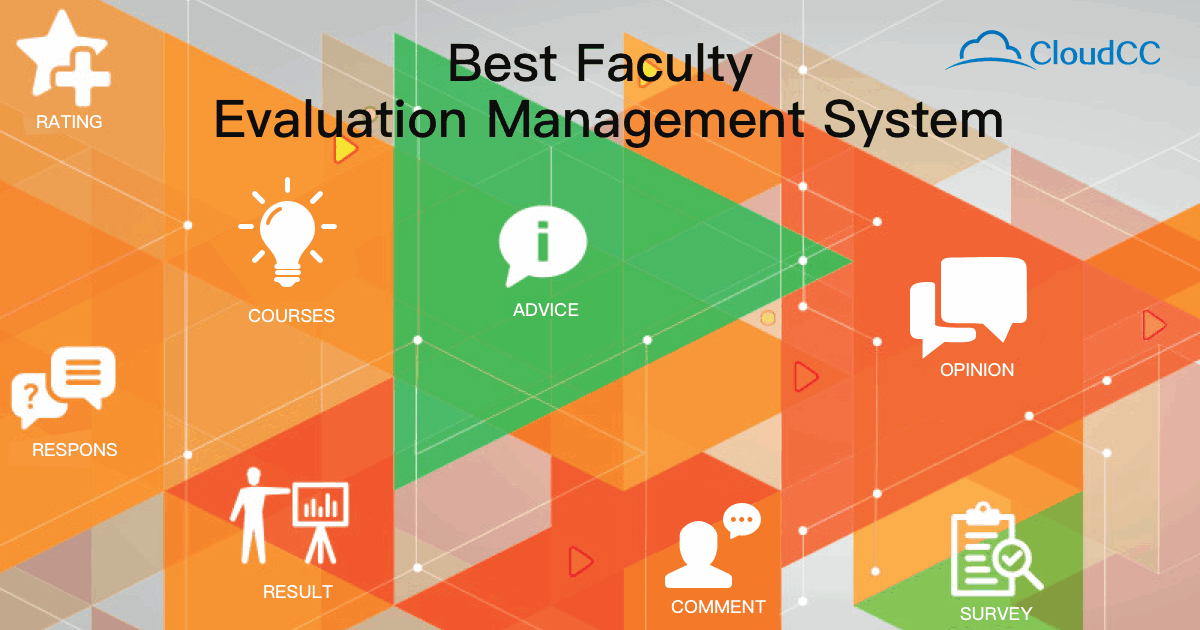 Criteria for Evaluating the Faculty via the System
An interactive and automated process is available through the faculty workload management system, which transfers information for faculty assignments from educational and human resources. Faculty members should help students to shape their careers as well as learn the basic principles of their respective fields. They should suggest students a summary of the entire lesson that has been taught. The faculty should have ample knowledge and awareness of their sub-disciplines to respond to questions from students or to support students to proper answers to their queries.
Faculty members must attend classes and labs and retain regular hours of service and take planned exams. They should demonstrate a student's concern for any kind of information through meetings or conferences. OBE, Outcome-Based Education is a system that reflects on the results of each component of the educational system. Every student should have completed the goal at the end of the educational experience. The introduction of OBE in higher education is supposed to increase the instructional quality and a student's learning value by coordinating curriculum, instructions, and assessment processes, etc.
They should act as a mentor to learners who have difficulty in understanding classes. A faculty must be aware of the task they do on several platforms other than taking classes. When a student is unwilling to take on the tasks, the faculty member may propose an alternative solution to learn the topic needed for the course.
Top 1 Faculty Evaluation System Software
CloudCC CRM exploits the creative and pioneering technology. It takes pride in its improved built-in faculty system that allows the higher education world to effectively manage their faculty in a single click.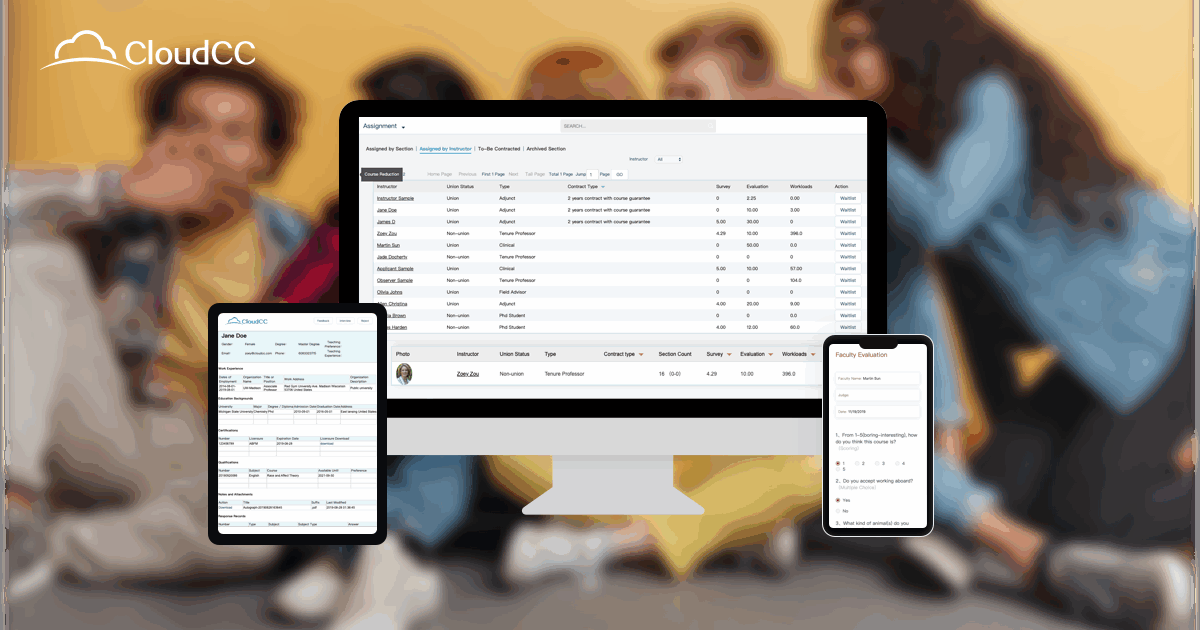 Simplicity
Its faculty evaluation module makes you get tired of the complex process from sending out hard copies for faculty evaluations & student surveys to scanning those you collect back into the databases.
Automation
Its faculty evaluation module helps to automatically store the evaluations sent to the corresponding subordinates by supervisors and committee members from your school, then accurately calculate overall points gained from the survey and finally easily add each on the respective profile page.
Flexibility
Both default and customizable survey templates with a short answer or scoring questions are provided at question bank for student survey. Once the survey is made, you can copy and share the link generated on that survey page to students for completion. No matter general information or more detailed information on this survey is accessible.
Conclusion
The faculty evaluation management system is available to help you through the increasing organizational challenges and all the repetitive selection procedures. This online service allows you to reduce your manual work. So, you may always prefer a software system like CloudCC which provides a user-friendly system with affordable pricing and offers remarkable features to help higher education to reach optimum performance.
Related Articles
CloudCC Debuts Faculty Management System to Handle Faculty Whole Life Circle Efficiently
Top 5 Faculty Management Software for Schools and Colleges