Back to the list Top 5 Faculty Management Software for Schools and Colleges
September 25, 2019
Teaching and learning are the two sides of the coin, and in order to improve the outcome of your Schools and Colleges, your faculty must be efficient, creative and assist the students in staying positive. Faculties in every institution are the stakeholders of the system, and they keep the confidential and important data which needs to be secured, systematically and easily accessible.
To meet the need of Schools and Colleges, many faculty management systems come out in the market. And the top faculty management software not only stores all your faculty data securely but also helps every faculty operation process efficiently, timely and effortlessly.
What is Faculty Management Software
Faculty management software is a set of a multiple of tools which lets the colleges and institutes to run smoothly and properly. It could be Web/Cloud/Desktop based software which is built to automate the system and improve the efficiency of management of the faculty.
You may have seen many schools and colleges who feel that their work is straightforward and they can do it with couple of spreadsheets and doesn't require the Faculty Management Software, but when it comes to secure your tiny information with a complete backup, then you're desperately in need of Faculty Management Software, and there are immense number of products available which can save you money and time.
Top 5 Benefits of Faculty Management System
Let's talk about the top 5 advantages of Faculty Management System, and then you will know why you need to buy it and use it.
1. E-Communication- Faculty Member, can easily communicate with their fellow members and ask them for anything. They can update the spreadsheets in their control, make work schedules, and keep the record of their footprints, and a lot more.
2. It makes you go paperless- Ain't nobody these days want to deal with the utilitarian aspects and faculty management system helps you to get the environment-friendly way of managing the school/college work instead of using the old method.
3. Installation is Easy- There are no complications in installing the Faculty Management system software. Once everything is installed, you can set up everything as per your choice.
4. System Alerts- Another advantage which this system provides you is the System Alerts. When some work isn't performed at the given date, someone is absent or reminding of anything; you'll get everything in the package.
5. Database Management- Faculty Management system manages every data easily and efficiently. If you want the retrieval of data, you can get it anytime.
In today's world, where everything is moving to the latest technology, it's important for the schools and colleges to move on and uses Faculty Management system software, so that you can manage everything in no-time and with less-money.
Top 5 Faculty Management Software for Schools and Colleges
As we are done with the Advantages of Faculty Management Software, now it's time to discuss the most awaited part of the content which is Top 5 Faculty Management Software for Schools and Colleges, and here we go!
1. CloudCC
CloudCC is one of the best Faculty Management System Software that provides the comprehensive faculty management solution for schools and colleges. CloudCC has been dedicated to providing easy and reliable CRM systems for various industries for over ten years. More than 100,000 satisfied clients have chosen CloudCC to help improve their business efficiency. CloudCC Education Cloud is the professional solution for high education while CloudBB is for K-12 Schools.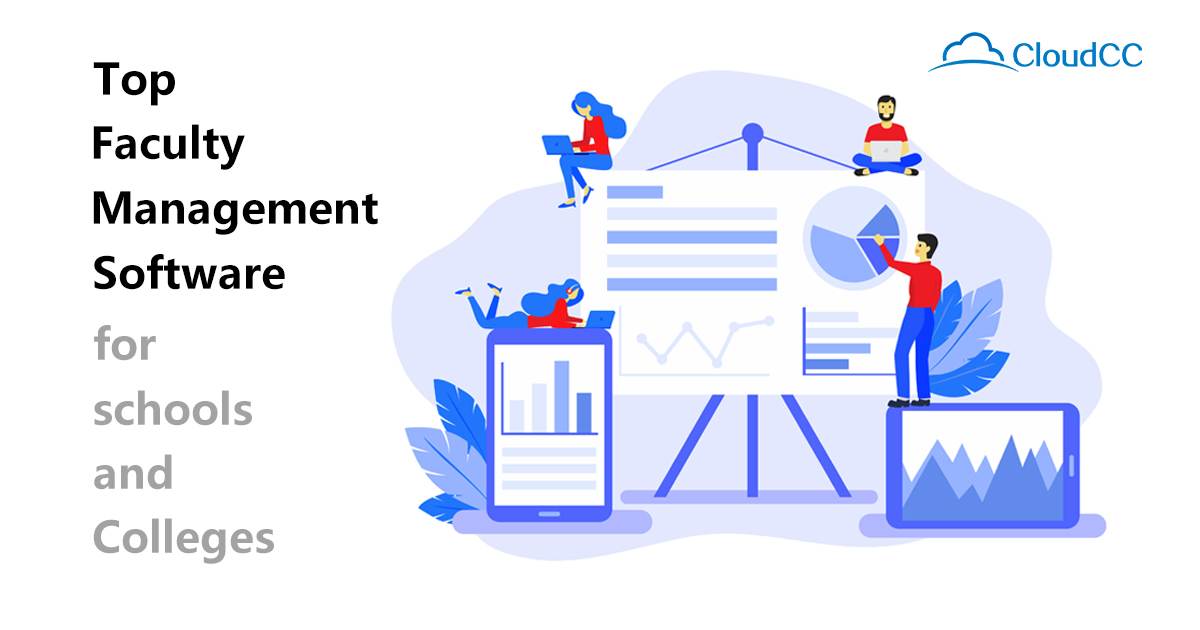 Advantages of CloudCC
1) Cost-Effective
It is a cost-effective solution for your schools and colleges management because it is quite affordable and reliable with multiple features, which can help you save a lot of time and money.
2) Easy to use and customize
The system comes up with the default settings which are easy to use, and you can still make the adjustments and set the preference as your need, such as interface, search fields, and dashboard, etc. And you can also simply custom the faculty management components by dragging and dropping.
3) Multiple Faculty Management Tools
CloudCC Education Cloud offers multiple powerful tools for faculty management which will help school and colleges increase their operation efficiency and put more energy on improving the educational quality.

• Faculty Recruitment Management:
It release you from the endless paperwork by automating the faculty recruitment process online from creating job vacancies, classifying applicant, setting up interview appointments, sending the offer letter/rejection letter to creating a faculty account.
• Faculty Contract & Payroll Management:
It's easy to check the contracts and payments status, confirm and approve generated contracts for both faculty members and faculty admins.
• Faculty Evaluation Management:
With CloudCC, you can easily finish the faculty evaluations and student surveys online. No more piles of hard copies. This can be done paperless and all the date will be stored and accessed in the faculty database securely and effortlessly.
Besides, there are more useful tools such as course management, faculty communication, accreditation management and others.
4) Mobile and PC Compatible
So, if you're looking for some Faculty Management Software which is equally supported by mobile and PC, then CloudCC is for you. You can make changes easily in schedules, duty, alerts, or any other thing from your phone in the CloudCC Mobile CRM if you've no access to the PC.
Want to try it free? Click here to get started.
2. Microsoft Dynamics 365
Microsoft Dynamics 365 is a complete solution for those who are looking for the best Faculty Management System Software because they offer School/Institutions a powerful solution to manage what they are striving for.
Advantages of Microsoft Dynamics 365
• It offers you Programmatic Management that you can now create milestones, establish priorities, public and private policy, budget management, and a lot more.
• Dynamic 365 have Cortana Integration which is basically used as the Virtual Assistant to help you find the content in the Faculty Management System. You can use this feature when you're unable to find the content in the management system manually.
• Dynamics 365 is usable for Non-Technical Users. You don't have to be a technical person in order to run the software because dynamics 365 is super easy to use.
Disadvantages of Microsoft Dynamics 365
• Since Dynamics 365 is optimized with the Microsoft products, and then you might face some problems if you've any other operating system.

3. Ellucian
Ellucian is specifically made to meet the requirements of high schools so that Faculty can take a breath of peace and can get rid of the paperwork. This top faculty management system is enhancing the operations and experience of many faculty members in the world. You can go one step ahead of your competitors in education field by using Ellucian in your institution.
Advantages of Ellucian
• With Ellucian, managing students billing and payment has become so easy.
• Enterprise Resource Planning in the Ellucian is helping the faculty of any institute to automate the office functions related to technology, services, human resource and a lot more.
• Employee management system can help you creating the jobs, keeping the records of all your employee, scheduling their work and a lot more.
Disadvantages of Ellucian
The users are complaining about the lag which they are facing while running the web-based Ellucian.
4. OpenEduCat
Technology is evolving every day in the educational field where many faculty management systems are being introduced to provide assistance to the school and colleges. OpenEduCat is one of the best faculty management system software designed for school and colleges.
Advantages of OpenEduCat
• OpenEduCat offers open-source educational institution management solution. The colleges and institutes can customize the components flexibly to meet their unique requirements.
• Its faculty management module helps manage the faculty information easily. It also provides the faculty management tools for Class Room Scheduling, Course Scheduling and Payroll & Expenses.
• It offers on-premise solution as well as cloud-based solution.
Disadvantages of OpenEduCat
It's not so easy to get it started with OpenEduCat because the colleges and schools should have the IT team to do the customization.
5. Mountain Pass
Mountain Pass provides SmartPath faculty management software that is a web-based platform to improve workflow for medical and academic schools. Looking to buy the best faculty management software? Then read the advantages and disadvantages first.
Advantages of Mountain Pass
• It helps increase the efficiency of the whole faculty Position Management Process from Onboard, Appoint, Evaluate, and Promote to Career Events & Tenure.
• It brings the entire faculty lifecycle process online, which helps faculty affairs, department, and academic HR professionals say goodbye to the tedious paperwork, chasing down references and evaluations, and status update calls.
Disadvantages of Mountain Pass
The plans given by the Mountain Pass to buy are a bit expensive if we compare them with others, and its features are a little limited while others have more faculty management functions such as faculty payroll management.
Conclusion
Now we know there are so many benefits of faculty management software for schools and colleges. As a wise educational manager, it's necessary to choose one of the best faculty management software to boost the outcome of schools or colleges. You can select one from the best 5 faculty management software above, and CloudCC is highly recommended because of its comprehensive features for faculty, management, student information management and learning management as well as its affordable price.
---
Related Articles
What is faculty management system?
6 Best Faculty Management Systems for Higher Education