Back to the list
Top 10 CRM Programs 2019: Comparison & Reviews
December 13, 2019
The major determinant of success in any organization is an excellent relationship with the customers. Don't get it wrong that once you have the CRM software, you are as good as to go. That will be a costly mistake as there are tons of organizations that have adopted the incorrect CRM software but ran into losses after that.
The need for every business to choose which CRM software is best for their activities is what we should be talking about. Therefore, there is a need to look at top CRM programs available and make comparisons where necessary. Let's dive in: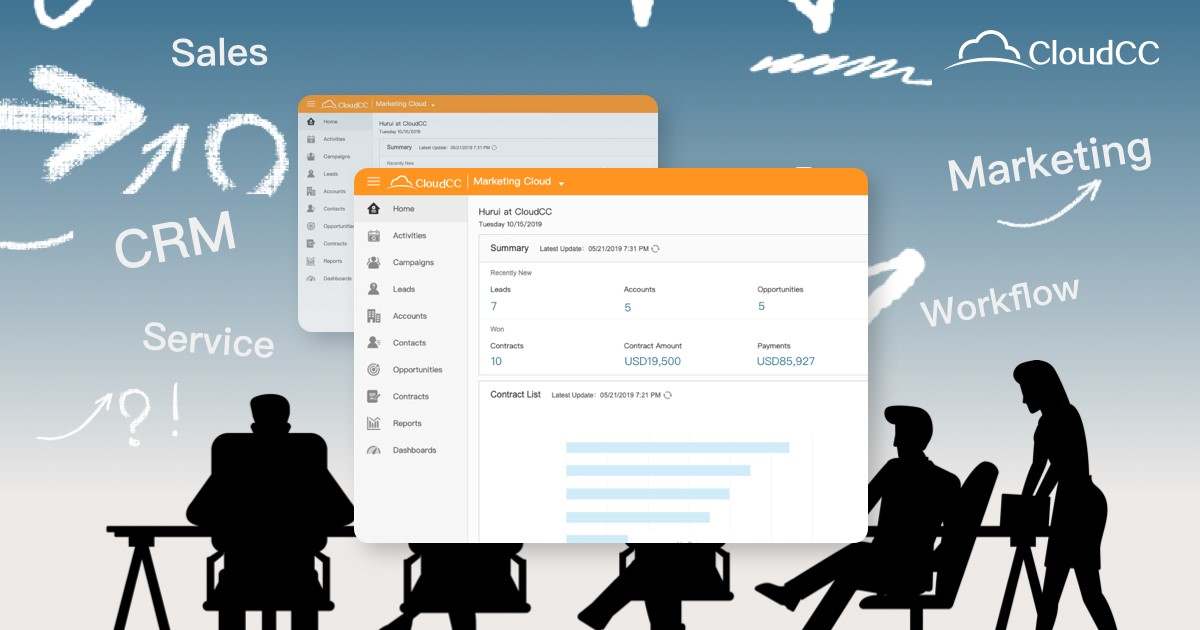 1. Zoho CRM
Zoho is one of the top 10 CRM programs available currently on the market. It is affordable and well-designed, suitable for those who are running after a lightweight CRM solution. However, it is well packed with high-quality features and customization options for users. You can connect with your customers wherever they are, save more time with automation every aspect of your business and get real-time reports and insights.
Zoho CRM is entirely compatible with several other third-party social media platforms as well. There are built-in features such as a shareable calendar and file repository, which make it best for small teams and multitasking individuals. Zoho CRM is undoubtedly one of the best CRM programs for small business as it takes pride in its compelling email marketing tools. Though, its workflow is limited to professional edition.
2. CloudCC CRM
CloudCC CRM is arguably the best CRM solution and wins great popularity in the present today's market. Why does it deserve your try? The answer is not far-fetched as there are pockets of innovative functions such as easy access, customization, and flexibility that make this one of the most sought-after solutions for any size of business today. Plenty of benefits you can derive when you adopt CloudCC CRM program, and some of them are as discussed below:
● Sales: With CloudCC CRM program, you get to have all your sales events directly on the home page. It helps you to stay on top of your meetings and all tasks. This CRM program assists you in having a clearer and better view of all the sales assignments related to smart forecasting, quoting, contracting management, and more you have for the day. CloudCC CRM program can help in capturing as well as identifying your business opportunities and converting the leads, thus driving the sales.
● Services: CloudCC CRM program helps in connecting customers over their preferred channel. No doubt, once the organization's customer base grows, sorting out large amounts of feedback through each customer's method of preferred communication quickly becomes time-consuming. However, CloudCC's multi-channel support for cases collectively gathers together all of the cases of customers have submitted into just a location irrespective of their method of communication.
● Marketing: Customer loyalty and brand value are built through marketing strategies and activities. They can be arranged via CloudCC, where you can create, design and send creative HTML emails for your target customers, plan your campaigns and their parent campaigns and generate QR codes for every channel of your campaigns. This results in better conversions and better productivity.
● Workflow: CloudCC CRM program creates an automated workflow that helps in working with a streamlined sales process. It automates the workflow, such that your sales reps will not have to manually handle repetitive tasks of sending emails to leads or probably creating follow-ups one by one.
Click here to get free trial chance>>
3. Oracle CRM
Oracle CRM solution developed Oracle Corporation supports the business with integrated sales and marketing. With this program, you can easily plan, build, and distribute intelligence reports among team members. Oracle CRM program can be adapted to any organization irrespective of its size.
4. Salesforce CRM
Even though many features of the Salesforce CRM program offers comes with a steep learning curve, there are still amazing features to be seen in Salesforces that put it in the bracket of top CRM programs. Some of these include smooth workflow processes, very customizable, social collaboration coupled with an impressive amount of cool features. However, it is a little bit expensive when you compare CRM programs and has a steep learning curve.
5. Pipedrive CRM
Pipedrive CRM software is a solution that emphasizes the ease of use. Pipedrive is a helpful CRM program with many features including email integration, sales reporting, sales forecasting. It is easier to use with an intuitive interface, and it can create multiple pipelines. But don't forget that it doesn't separate between lists of new leads from the existing contacts.
6. Base CRM
Base CRM solution takes so much pride in delivering solutions to small business owners. It is built for optimizing sales processes, from prospecting to closing, allowing salespeople to win more deals with less effort. Another fantastic thing about this CRM program is that it has some advanced analytic capabilities and reporting, and this makes it one of the best CRM programs for small businesses. Base CRM is very innovative, but customization ability is limited, of course, and the price is not low as compared to the CloudCC CRM program.
7. HubSpot CRM
HubSpot CRM software is not just an excellent CRM program but also a wonderful choice for smaller companies searching CRM they could use as first-timers. You'll no longer have to manually update reports or wonder how your team is tracking toward quota as you have more important things to do. Furthermore, it has powerful email integration for client connection. Though the CRM program appears to be quite affordable at the beginning, as the organization expands, it gets pricey.
8. Freshsales CRM
Freshsales CRM is a flexible CRM program geared towards small and medium-sized businesses. It is a piece of relatively full-fledged software for your sales business so that you don't need multiple tools to drive sales anymore. It has cool customization capabilities, intuitive interface, and offers several other amazing features. But if you're looking for more functions in other fields except for sales, it may get you disappointed.
9. Insightly CRM
Insightly CRM program is one of the top 10 CRM programs small-sized businesses opt for sometimes as it is a good customer relationship and lead management program. It takes marketing, sales, and project management together at last on a single platform. Particularly, its marketing automation goes beyond the funnel, thus creating engaging experiences with customers across the entire sales cycle. Though pipelines are usually not available for leads it is still a cool program.
10. Apptivo CRM
No doubt, this is one of the top-rated CRM programs as it does a great work of cool customizable solutions. It is a little bit affordable but not as cheap as the CloudCC CRM program. It also has a great workflow and campaign management tools, but its integration is still custom rather than based on standard APIs.
The Bottom Line
In this roundup, we have tested some of the most useful CRM programs on the market today. Don't hesitate to choose the top one to make your business more successful and here we strongly recommend CloudCC CRM!
Related Articles: 
CRM Software Reviews - Price & Functionality Comparison?
CRM Price & Feature Reviews