Back to the list
Top CRM Tools for Business Development
November 29, 2019
Customer Relationship Management (or CRM) is an effective business development concept that no company can possibly do without. The precise need for CRM is tied to the desire of every business to maximize revenue. Increased customer loyalty leads to increased revenues, and to ensure that loyalty is kept at the maximum, businesses need to ensure proper CRM practices. With that in mind, here are the top tools that can help optimize CRM efforts.
Top CRM Tools for Business Development
1. SalesForce
SalesForce is seen by many as the biggest and most popular CRM tool for small businesses (and even the larger ones as well). However, if you are a small business and you want to take advantage of the features available here, then you will need to look into the Lighting Essentials.
Lighting Essentials has everything that you could ever need including the ability to follow up on your leads and integrate Emails into one single place. You also get an advanced contract manager, which helps you to keep track of all your deals in real time.
With full integration and customization, this is one CRM tool that keeps you effective.
2. HubSpot
HubSpot is one of the most popular business development platforms which focuses more on sales business development on the market today.

When it comes to CRM for business development, this software finds its opportunity to turn your business process into a state of the art and revenue-generating machine. The software comes with various features that you will need to ensure proper CRM, allowing you to monitor the activities of your company on all fronts. From company profiles to contract signing to tracking and designating business deals to works, HubSpot is undoubtedly one of the best choices that you could ever choose to guide your CRM efforts. The platform also provides integration with some of the top sales platforms, including Shopify, SalesForce, and much more. But when you start to add premium functionality, it gets costly.
3. CloudCC
CloudCC CRM is the perfect CRM tool for business management in all areas if you are a business person who requires the ability to make easy sales, marketing or services without getting too much of a hassle. Regardless of whether you are there or not, CloudCC ensures that you are always in charge and clearly understand what your company is doing.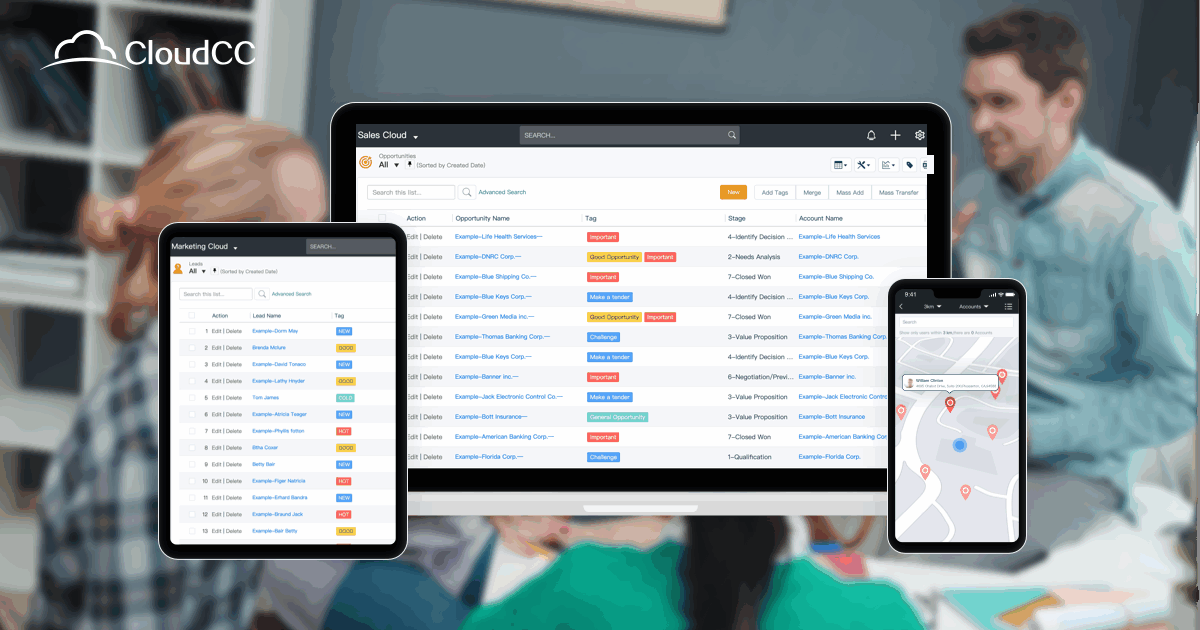 CloudCC empowers you to run your organization at its peak. It divides everything about your business into sections:
a) Its "marketing" function provides effective marketing automation, which helps you to easily take your products or services and get them in front of those who you want to sell to.
b) Its "services" function helps you to connect with your customers and get feedback from them concerning services that you have rendered in the past。
c) Its "sales" function provides easy insights into the sales efforts of your company and how you are performing against set goals.
d) Its "workflow" function helps you to automate and streamline daily sales processes, thus ensuring that your workers can remain productive.
CloudCC also provides integration with some popular business management tools, including but not limited to Dropbox, MailChimp, and Zapier. This you get easy accessibility and powerful ability to deal with documents or files related to your business in a flash.
The best part is that it is suitable for all types of businesses. Especially, owing to its affordability and free trial version, it is widely regarded as a great acumen as a CRM tool for small business and startup and you will find it to be the most adept.
4. Agile CRM
Agile CRM provides quite a lot of advanced features that contribute to the development of big businesses. From getting your reports delivered via Email to drag-and-drop marketing automation and other features like setting custom appointments, this is undoubtedly one complete tool that you will love to try. For example, you can automate your sales, marketing, and service in one platform and avoid data leaks to enable consistent messaging. For another example, you can make the most of its modern features and a series of widgets, plugins, API-based integrations for better productivity. However, you should note that this product isn't free.
5. Teamgate
Teamgate provides you with a full suite of sales CRM solutions that will be able to help both small and medium businesses to scale their operations more easily. The platform offers sales and lead management tools, as well as the ability to track performance and create comprehensive forecasts.
Teamgate integrates with all of your favorite email service providers including Xero, Zapier, and MailChimp, and therefore integration is smooth, fast and effortless. You get a full-stack sales solution that works on several solutions, keeping your business development optimized. It is suitable for those who are dedicated to sales business so some users complain about its limited field of application.
Choose the Most Suitable CRM Tool for Your Business
Businesses differ in their size, and these size differences mean that the needs of every business differ as well. By understanding the needs of your business, you can easily pick the tool you need. However, certain CRM tools for business development work for businesses of all sizes. CloudCC is encompassing, and it provides easy accessibility, regardless of your business size.
Check the features of the software
Another important factor that will help you make a decision is the type of features that you get. CRM business tools provide a wide array of features, and you will need to discern what features will be the best for you based on the needs of your business. This is especially important when you need to pay more to get extra features.
Cost
You also have to consider the cost before you decide. There are free crm tools for startups and there are other CRM tools that will need to be paid for. Some CRM tools render both the free trial version and the paid version. Besides, you need to consider whether the CRM tool you choose is easy to implement. Or, it will also cost money to employ the technicians to help you.
Conclusion
Your customers are the lifeblood of your business, and you need to understand how to manage them effectively and make them continue patronizing you. So, there you have it. Keep in mind that every business needs to keep revenue streams flowing, and CRM is one surefire way to ensure that this objective is reached. With these tools, you are setting your company on the right path.
Related Articles: 
8 Best Free CRM Apps for Small Business
The 8 Best Free CRM Systems For Your Business