Back to the list
Usability Wins with Dynamic Page Layout in CloudCC
December 20, 2019
California, Dec 20, 2019 - We're excited to announce the launch of Dynamic Page Layout as a great helper to increase the CRM's usability and flexibility during the workflow execution. By introducing advanced programming and databases, it allows users to configure a page layout to respond to a customer's input as a record is created or edited. The information that users need will be gathered effectively with nothing to clutter the productivity.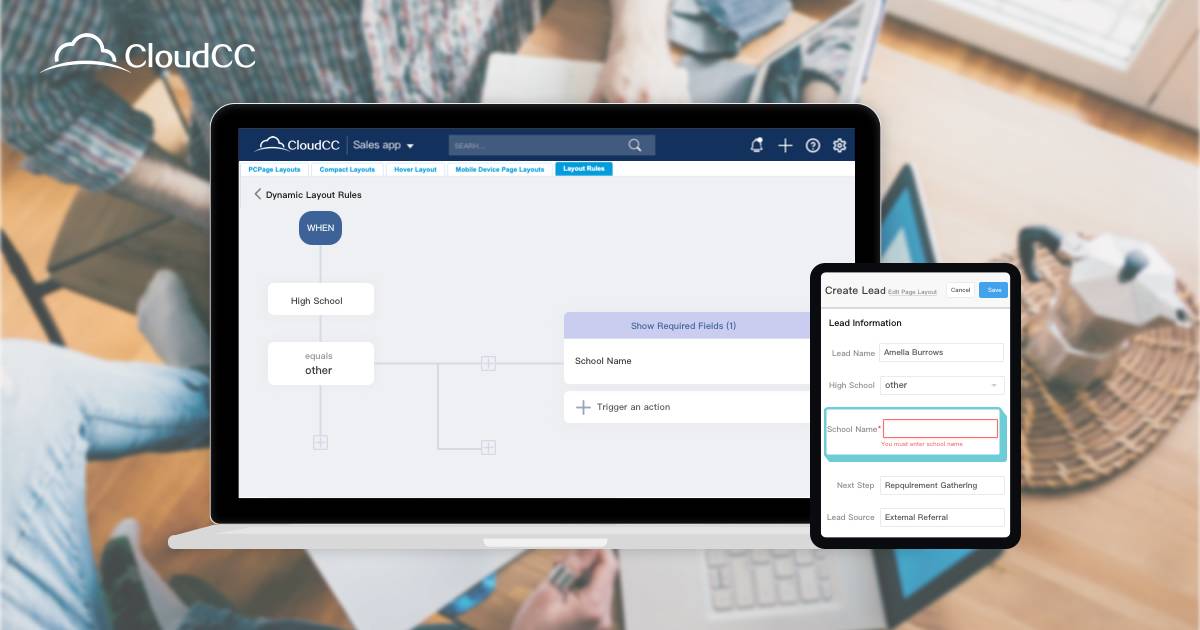 According to the Customer Relationship Management Software Market Global Report 2020, the global CRM software market was valued at about $25.5 billion in 2018 and is expected to grow to $36.53 billion at a CAGR of 9.4% through 2022. It suggests a promising prospect but it also means a fierce industry competition. Only who can be user-oriented enough and optimize user experience, can it become a pioneer in the CRM space. This is where CloudCC's Dynamic Page Layout feature steps in. CloudCC mainly aims to,
● Reduce the use of extraneous record types to have minor variations in page layouts to show information.
● Reduce the number of page layouts as the dynamic flow can embed intelligence on what to show to each target user.
● Enhance extensibility, simplicity, and interactivity since the fields could dynamically show or hide any information users wanted based on other attributes or criteria.
● Allow users to compliantly capture additional detailed notes on various occasions or for different purposes, driving more power for users with no need to struggle with complicated code.
With CloudCC , users can create new layouts based on dynamic layout rules designed by users. Depending on how users set the rules up, the page can show or hide fields, show or hide sections (groups of fields) or make individual fields required. In other words, it is no longer hard to deliver customized information that users need based on customers' own conditions, improving productivity and efficiency. Also, CloudCC's dynamic page layout feature enables to associate questions with modules for easy navigation and dynamic forms with the ability to map to field can associate the field with the questions. Then, the answer to any question area can thus be connected with the field of the module. All these will generate smooth workflow actions.
In order to assist users in obtaining more accurate information and better locating customers, CloudCC makes full use of "conditional logic" which makes it so easy to add workflow condition that users can quickly create and manage logic applied to the forms. Moreover, it takes each user's multiple needs into consideration and boosts the functionality of some of the advanced fields. The vast information management library is structured and accessible, conducive to get insights with more valuable results of the answer by each customer related to the business.
CloudCC's dynamic page layout settings are all about customization - allow users to select and organize the fields or sections on a page. This feature also allows users to customize the layout where to gain user's additional details. Users can customize to show or hide the fields or sections in the layout and the rule's action will show automatically when conditions trigger it. It will improve how users create, edit, or delete the fields that need customers' respond, so users can filter the information and remove redundant or unwanted information by virtue of such a versatile feature.
Leveraging the power of technology, CloudCC CRM dynamically show-hide certain fields on Edit/New page layout. With the freedom and flexibility to capture the information, CloudCC gives users a personalized experience with functionality based on different tasks while users can also build stronger customer relationships and drive more seamless interaction based on different roles.
"We continually make innovations to give users much more flexibility and usability that accommodates the way they work for improved collaboration and productivity," said Tianna Chen, product manager of CloudCC CRM. "With tailored dynamic page layout capability for business users built on our app, users must have greater agility responding to the changing needs of their business."
For more information please visit https://www.cloudcc.com/.
About CloudCC
CloudCC offers the complete CRM platform with highly competitive pricing, features business apps covering marketing automation, sales force automation, service management, extensible platform and industry CRM solutions and more.
Software as a service -Capture visitors from your website, automate your operations, plan your daily tasks, support your customer service, and more applications you need.
Platform as a service - Depth customization helps you build your own business process and make CloudCC work as your way.
You can find out a CRM solution we can do for you. We have many clients from all over the world. No endlessly printing sheets, save time and money by automating your routine tasks and put your business on auto-pilot.