Back to the list
What is CRM for Higher Education And How to Choose One?
September 30, 2019
For an educational institution to achieve its long-term goals, it needs to attract, retain, and serve its learners. Therefore, there is a need for schools and colleges to come up with the most appropriate ways of making this goal a reality. As a result, this is where CRM for higher education emerges in to provide the needed solution.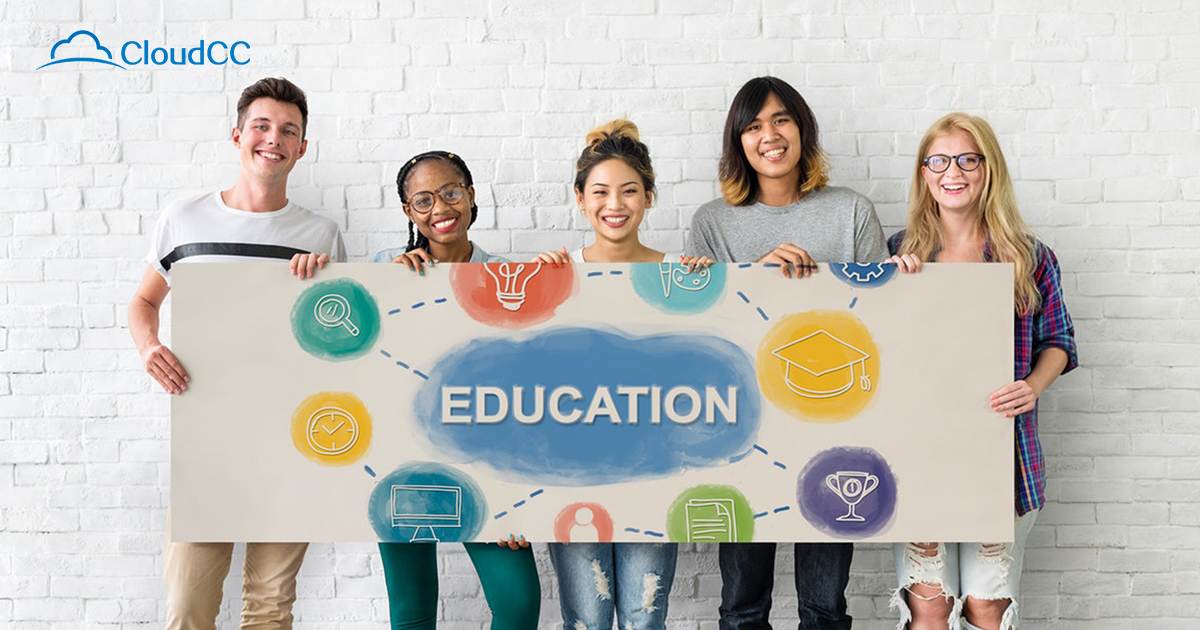 What Is CRM for higher education?
The Definition of CRM for higher education
CRM for higher education refers to software that enhances data sharing and easy communication between the school or college and students and supporters. With a higher ed CRM, it becomes easy for educational organizations to store vast amounts of information securely and keep it organized. Therefore, the students, parents, teachers, and alumni can access this data with less hassle. For example, CloudCC Education Cloud is reliable and affordable CRM software that can help you your faculty management, student information management and learning management effectively.
Now you've got a simple idea about CRM for higher education. But why it is so necessary for higher education? Now here are some benefits you will get once you apply the higher education software in your educational activities.
Benefits of Higher Education CRM Systems
Investing in CRM for education institutions is the right step to take today if you can't manage your school or college effectively. The main benefits associated with higher ed CRM include:
• Helps In Streamlining The Admission Process
With CRM, every school or college can manage the lifecycle of students in one place. It allows you to access all the student information such as roll number, the student's past academic documents, and many more details.
• Helps In Tracking The Top Performing Candidates
With CRM for higher education, it becomes easy to identify the top-performing students. Through this, you can interact with them before they send application letters to various universities.
• Helps In Delivering Top-Notch Service
Higher ed CRM makes it easy to have a thorough understanding of your students. With this information, you will identify their details and struggles, hence provide them with high-quality service.
• Helps In Simplifying The Evaluation Procedure
CRM for higher institutions allows teachers to study the progress of students from one stage to another. It makes this a reality by ensuring that you have the student's certifications, grades, and marks in one place.
• Helps In Tracking Payments
With the CRM for higher education, you get a chance to automate the fee collection process. Therefore, it reduces errors and saves resources and a lot of time. E.g., CloudCC can help process contracts and track the payment to instructors easily through its contract & payroll management tools.
• Helps In Maintaining Alumni Relationships
Through higher ed CRM, you get the essential tools you need to maintain alumni relationships. As a result, you will not get a challenge when it comes to raising funds from donors.
In a word, CRM is an ideal software for all higher education institutions. It is an effective solution that enhances excellent communication and better visibility across the various departments with a school or college.

How To Choose CRM For Higher Education?
Since CRM for higher educational institutions is so useful and necessary, there's a need to select the best CRM for higher education that will help you in attaining the short and long-term goals within the shortest time possible. There are several CRMs in the current market, and all these CRMs vary from one another, with each one of them operating differently, specializing in a unique field, and focusing on a particular audience. As a result, there some things you need to bear in mind before selecting the right CRM for higher educational institutions. These are:
1. Reason For Investing In a CRM
Don't make a mistake of investing in a CRM because your competitors are doing so. You must have an apparent reason why your school or college needs one. As yourself how that CRM will help your educational institution to grow. Also, you must know the role that the CRM will play.
2. When Do You Need The CRM To Be Active?
Also, you need to come up with an implementation timeline when you will need your CRM to start working. If it is an urgent issue, you can opt for CloudCC Education Cloud, which is easy to use and allows you to operate it from anywhere.
3. Consider Mobility
Here, you need to check how effective the system will be whenever the student requires an immediate response, and the teaching staffs are not around to help. For this case, you need to go for a CRM for higher education that works best with tablets and mobile. With this mobile CRM, it will become easy to retrieve the information with less hassle.
4. Team Involvement
Ensure that you've engaged your team during the election period so you can get their ideas and insight. Remember, these are the people who will be using that software daily, hence the reason to do so.
5. Options Available
Consider choosing a converged CRM system so you can always get an 'all-in-one' solution. This CRM is the most preferred since it places all the features in a typical package. Therefore, the selected CRM will integrate the marketing, student recruitment, and admissions into one streamlined program. Another CRM option available is the unified and integrated one. However, this is not the most preferred since some schools and colleges may find it hard to use it.
6. Ease Of Use
Ease is of use is another thing you need to consider before you choose the right CRM software for higher education. By doing this, you will avoid cases where you will need to invest more money and time to train your major groups on how to use the system.

Conclusion
A CRM is an essential asset for higher education institutions that want to reap huge returns from their marketing strategy and digital admissions. With CRM, it becomes easy for schools and colleges to monitor their departments and prevent wastage of money.
It is essential to ensure that you choose the right CRM software that will improve your student and support relationships. The best CRM software for higher education must increase profitability and save time. If it does this, then that is the right choice for you. Keep all these tips in mind whenever purchasing the best CRM for your educational institution.

Related Articles:
What is faculty management system?
6 Best Faculty Management Systems for Higher Education