Back to the list
What is Email Management Software and How Does It Work?
August 23, 2019
In recent years, companies increasingly understand the value of nurturing clients through an efficient marketing, sales and customer support system. Unfortunately, irrespective of however skilled your team is, it is nearly impossible to handle sort, organize, and reply to the countless emails that they get each day. Email management software such as CloudCC makes the work of the email marketing, sales and customer support more effective by providing multiple powerful email management tools.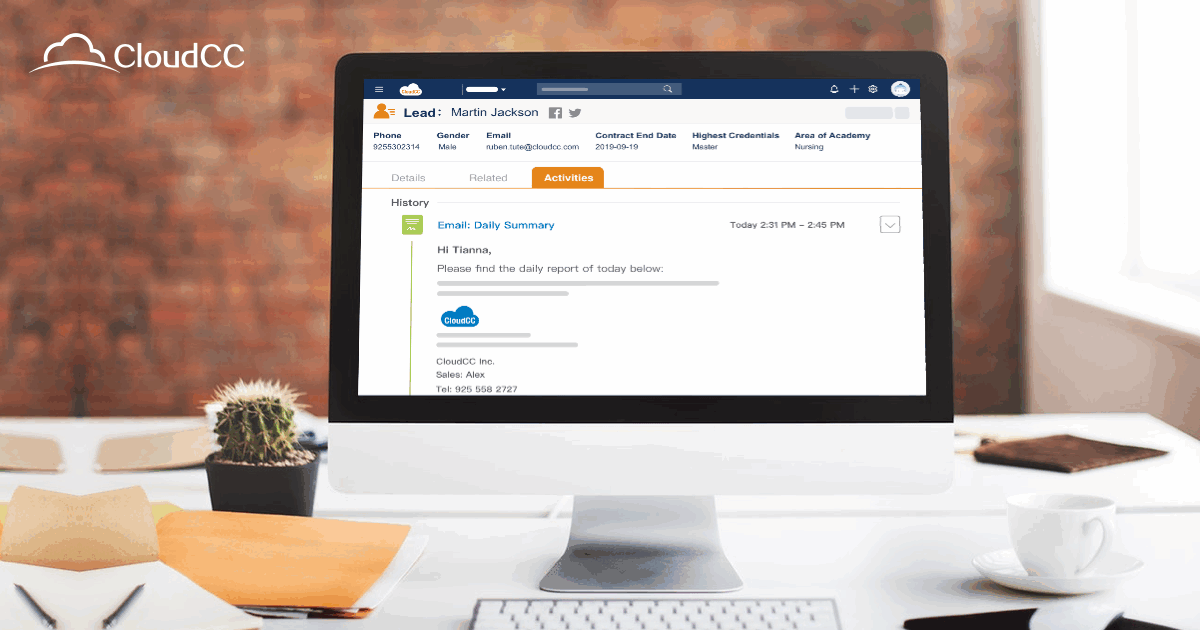 What is Email Management Software?
Email is an integral part of business communication. For most companies, email management is simply about moving emails from a server to a repository. However, email servers were not designed to store such vast quantities of scattered emails. Thus, this enormous load of unorganized emails can diminish the performance of email servers.
Email management software is a tool that businesses use to organize emails into classified, stored, and destroyed categories during the process of transferring them from the server to a repository. In simpler words, email management software allows businesses to develop precise control over emails sent and received by an organization.
How Does Email Management Software Help? 
Businesses use email management software primarily to organize inbound customer emails. Email management software can sort and hold huge volumes of emails. Moreover, email management tools can also be used to reply to customer emails. Most businesses connect email management tools with only the process of organizing emails. However, the functions of these tools extend beyond email organization. These tools can also be used for other purposes, such as email marketing , sales automation, and internal service desk, etc.
All email management software use various components. Some of these main components are:
• Email Ticketing System: This component does the job of assigning reference numbers to all emails and organizing and grouping all related emails under a single reference.
• Email Receipt Module: This component filters out any spam emails and assigns unique tickets to the remaining emails.
• Data Enhancement Module: This component adds special tags to emails, which allows them to be processed further. It also allows email tracking to generate the data such as the email open and click times and rate.
• Intelligent Analysis Module: This module checks all emails for subject, body, attachments, and tags, and stores information extracted as additional tags.
Buying Guide of Email Management Software
Selecting the right email management software isn't an easy task, especially for big- and mid-sized businesses. The tool you choose should offer extensive features to meet your business and marketing needs. Moreover, it should ensure security at all times. AI-functions, automated, and multi-platform integrations have become extremely important, and the right email management tool will fulfill these demands. Similarly, a powerful search is another necessity.
Moreover, users should be able to access the software while on the go. In this day and age, this is an essential requirement, one whose importance cannot be neglected. Similarly, the migration process should be simple so that new users can get hands-on with the tool immediately. Good email management software will also be easy to integrate with external applications, including iOS and Android apps. It should also support multiple folders and labels as well as multiple accounts and should allow the entire organization to share and communicate seamlessly within the inbox. Lastly, it should also support email campaign management as well as google campaign management.
And one of the most important buying factors to consider is database export and import. Invest your money in a tool that allows you to import and export subscriber lists, when necessary. The tool should also give users the option to subscribe or unsubscribe. Subscription verification is another factor you should consider while investing in email management software as this factor allows businesses to understand if a user is truly interested. Personalization capabilities and scope for bouncing address removal are the other two important factors business owners should consider before making the final decision.
Popular Email Management Software Currently Available in the Market
If you are looking for email management software for your organization, first prepare a list of all the features you need in a tool. Base your final decision on this list. There are many email management software currently available in the market. However, not every email management software is good. The best 5 email management software recommended would be Microsoft Outlook, CloudCC, Zoho Mail, SendGrid, and Groove, etc. If you are running a small or mid-sized organization, we highly recommend using CloudCC , which is the best email management software with multiple features such as email marketing, email template and email tracking. It offers 3 free users to enjoy most of the key features and its paid plan is very affordable that only starts at $6/user per month.
Pricing of Email Management Software
Most good email management tools have a free-trial period, which usually lasts between two to three weeks. Make sure to best use this time to understand the key features and capabilities of different tools available in the market. Once the trial period is over, most tools charge a reasonable monthly subscription fee. However, for most email management software, this fee varies based on the size of the organization and the number of users.
The Final Word
The first email was sent 48 years ago. The most fantastic thing about electronic messages is that they have managed to stay relevant in an age of constantly changing technologies. Email is an effective communication channel and marketing tool used by businesses to reach out to customers. Email management software are essential tools as they successfully cater to the productivity and marketing needs of companies of all sizes. We hope this article will help you make an informed decision about what email management tool is the right choice for you.
Related Articles:
5 Best Email Management Software 2019
Top 8 Free Customer Management Software