Back to the list
What is faculty management system?
September 11, 2019
Higher levels of education involve integrating complex systems as well as numerous professionals in an efficient and smooth system. The day to day tasks involved in coordinating a faculty can be made much more seamless by adopting the use of a faculty management system.
What is faculty management system?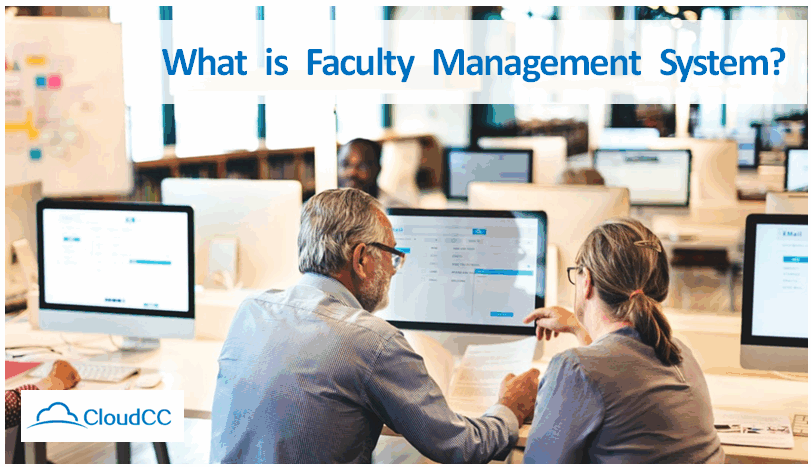 A faculty management system is a higher education system that helps colleges to manage the faculty across campuses and departments effectively. It helps maintain faculty information which may include staff qualification and skills. A good faculty management system is intelligent enough to identify faculty suitability for courses.
Faculty management systems can also be used to optimize work allocation to faculty and staff based on the type of job or occupation. It can also be used to present the time schedules of each staff member with no conflicts. Administrators can customize teaching periods and assign classes to specific members of staff.
With a comprehensive faculty management system, you can process every aspect of running a faculty, from course scheduling to online recruitment. This will save most of the effort required to get things done as well as lots of time.
Features of a faculty management system: 
To better understand what is faculty management system, you may need to know more about the key features of a faculty management system. Below are the main features for a good faculty management system.
• Multiple faculty management tools 
Take CloudCC Education Cloud for example, it is one of the best faculty management systems with multiple faculty management tools such as e-recruitment management, course management, contract& payroll management, faculty evaluation and faculty communication tools.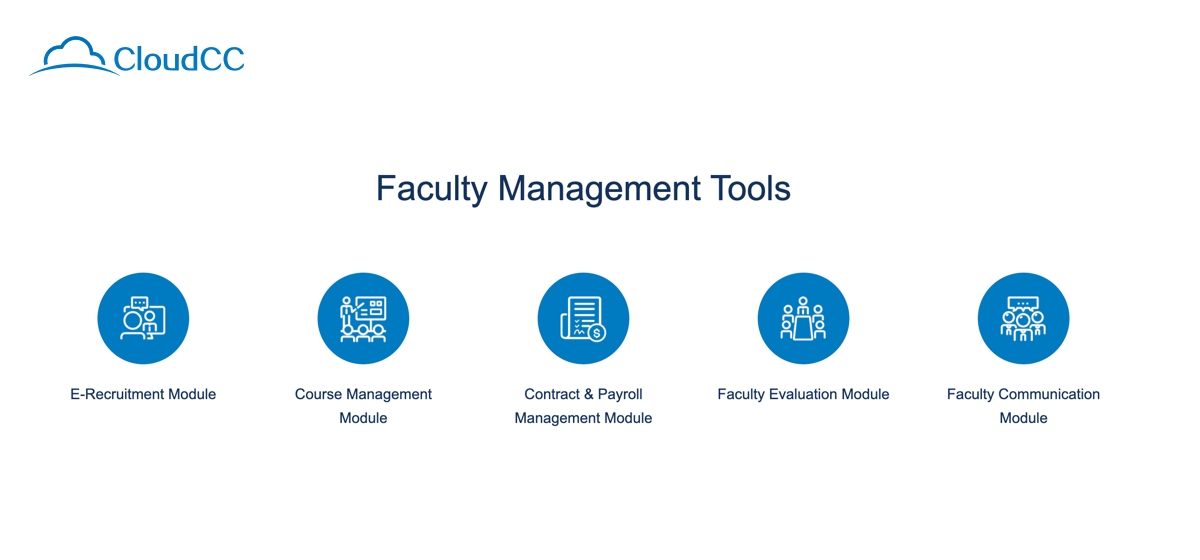 • Smart business automation
A good online faculty management system automates business processes, increasing efficiency to optimal levels and saving time as well as costs. Business transactions are carried out instantly and the information is immediately updated with the database. This saves all the costs of balancing accounts, audits, and other hassles.
• A faculty management system is no "information island"
A good faculty management system should be able to integrate seamlessly with your other software applications. The information on your faculty management system can be easily transferred between different software systems for more efficient coordination of tasks, processes, and activities. Once information moves instantly from one system to another, tasks are bound to be carried out much faster and more efficiently.
• Custom Components
Components of an ideal faculty management system should be easily configured and tailored to your unique needs just by a few clicks, drags and drops. The components of a faculty management system are meant to coordinate specific tasks, some of these tasks are unique to specific faculties and may not be needed in other settings. It is important to be able to customize components and tailor them to your own specific requirements.
• Development
When there is a need to develop a need-specific business process (which may or may not be unique to your faculty alone) there should be a way to embed a java code to develop such business process with very little effort.
Developing the new process should not require special coding skills so that any ordinary computer user can develop a process, as well as tailor it to suit their personality.
Six benefits of faculty management systems for high education
Using a college faculty management system offers your institute so many advantages; however, we have decided to highlight the six most important benefits of using a faculty management system.
1. Overall running of a faculty
You can automate all aspects of managing your faculty to make it much more effortless with a faculty management system. Tasks like recruitment can be done online, eliminating the distance hurdle completely.
2. Efficient coordination of faculties.
A faculty management system helps coordinate the overall affairs, tasks, and operations of your faculty. Most tasks, especially information-dependent tasks are carried out much faster due to the speed of information transmission.
3. Secure information storage.
An online faculty management system saves all information on the cloud, hence incidents like theft, fires, and even natural disasters will not affect your information. As long as the information is updated in real-time, and saved on the cloud, there is no chance that information stored in a faculty management system will be lost, corrupted or compromised in any way.
4. Seamless work allocation
Allocating work to members of staff of your faculty can be a really challenging task, prone to lots of oversight, conflicts, and error. However, a faculty management system does this with no issues whatsoever. Also, all the members of staff involved can also get access to information pertaining to allocated work in real-time. This will ensure work goes as smoothly as possible and there are no issues.
5. Easy access to information.
Adopting a college faculty management system offers you the advantage of much easier access to information. Ease of access to information adds to the overall efficiency of the management system.
6. Lower costs of operation
Faculty management systems reduce the time and effort required to get things done. A fully functional and updated faculty management system will help you maintain serval services at a reduced cost. There are fewer members of staff needed to manage the affairs of the faculty.
The world has gone digital, managing a faculty also should follow suit. The benefits of adopting a reliable faculty management system are numerous. And among all the faculty management systems in the market, CloudCC is a good choice for colleges and institutes because of its powerful features, high customization and affordable price.
---
Related Articles